Is God not enough for you? Thinking of adding something else to your life's equation? Or perhaps your brain knows that God is enough — like a fact — but this truth hasn't reached your heart. You don't really believe it — you wish it.
Is your assent to God's sufficiency just surface level? He wants to take you deeper! It's time to move beyond mere assertion, and truly find your completeness in Him.
INCOMPLETE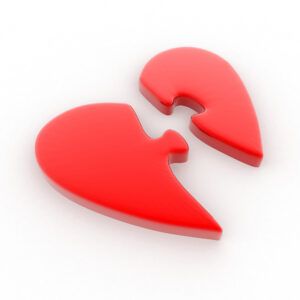 I'm right there with you. It's so tempting to search for contentment in things besides God. The approval of others, worldly success, academic pride, a healthy lifestyle, a loving relationship. All these are good. But they aren't God, and they aren't meant to complete you.
God wants all of your heart, and rightly so. He deserves it! He created you and redeemed you. All the blessings you have are thanks to Him. But experiencing God's "enough-ness" (I just coined a new word! ?) isn't a duty, it's a delight!
Apart from God, deep soul-satisfaction is impossible. You were created with an aching void in your heart. Only God can fill it, and when He does the results are transformational. Strivings cease and contentment settles in.
GOD IS ENOUGH FOR YOU — WHAT HE SAYS ABOUT SUFFICIENCY

The apostle Paul wrestled with discontentment. We know this because:
He writes about learning contentment. So, there was a time when he had not yet learned it.
In one particular season of suffering, God needed to remind Paul that His grace was enough for the struggle.
Paul prayed that God would remove a "thorn"  from his flesh. We don't know what this was. We do know it was a source of great suffering.  And God, the most loving Being in the universe, declined. His response to Paul's plea was:
My grace is all you need. My power works best in weakness.  — 2 Cor. 12:9 (NLT)
Another Bible translation puts it this way:
My grace is sufficient for you, for My power is made perfect in weakness. (NKJV)
Not the answer Paul was hoping for.
But as he pondered the Lord's response, revelation came and Paul penned …
Therefore I will boast all the more gladly about my weaknesses, so that Christ's power may rest upon me. That is why, for Christ's sake, I take pleasure in weaknesses, in insults, in hardships, in persecutions, in troubles. For when I am weak, then I am strong. — 2 Cor. 12:10 (NIV)
GOD IS ENOUGH FOR YOU — THE MYSTERY
What a paradox! The weaker, the needier you are, the greater your opportunity to experience God's strength.
Can you imagine actually appreciating your struggles this way?
Hardship is where God meets you, and most clearly displays His sufficiency. When your cherished relationship fails, God's love is sufficient for you. When your financial security crumbles, God proves His provision is enough.
Wherever you feel weak, lean into Him! Put your full weight upon Jesus, and allow Him to supply all your needs. He is able, and He is enough.
Now … to move this truth from head to heart.
OBSTACLES TO EXPERIENCING GOD'S SUFFICIENCY
In Christ, you are enough. When you receive Jesus' gift of forgiveness and surrender your life to Him, you become in Him. Mysterious, right?
There are many biblical analogies for this union. One of my favorites describes the joining of a branch and a grapevine. Jesus is the Source of sufficiency. The weaker you are, the more you cling to Him, the stronger His power will be in your life.
Ah, but there's that sin nature. We all have it. In Christ we receive forgiveness from sin and power for victory over it. But, perhaps you don't always walk in the Spirit. (I'm guilty too! ?)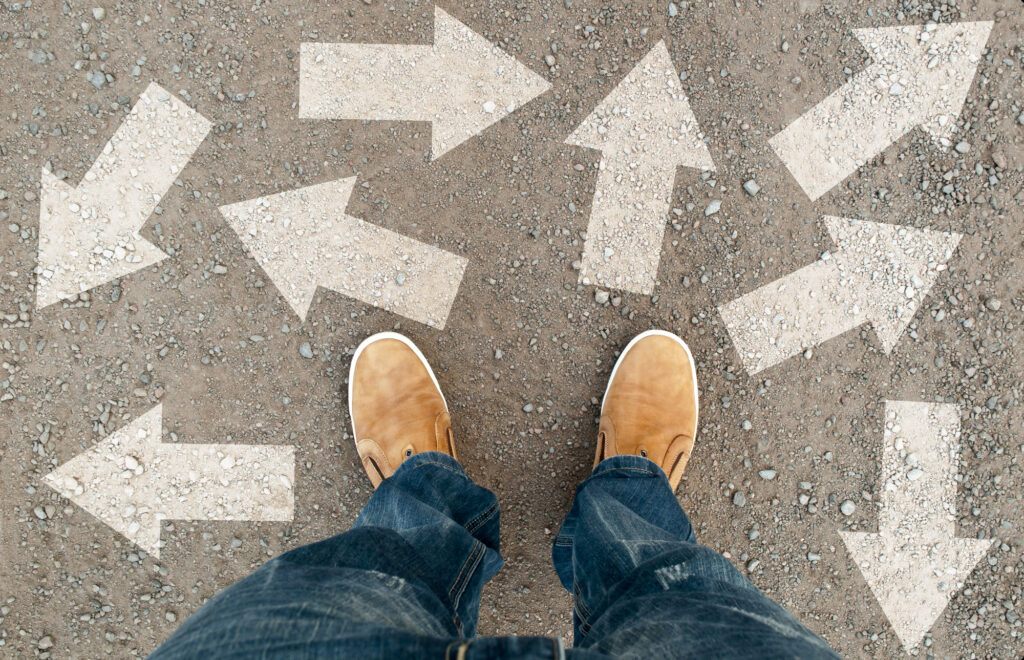 Is your quest to live the truth that "God is enough"  plagued by diversions?
THE BOOK: BECOMING A WOMAN WHOSE GOD IS ENOUGH, BY CYNTHIA HEALD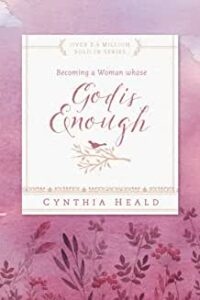 Knowing the snares that await can help make your journey less perilous. Here are four obstacles to experiencing God's sufficiency, as described in the book Becoming a Woman Whose God is Enough, by Cynthia Heald (click the link to purchase):
Seeking Satisfaction in Idols.

Idols? I'm not referring to ancient graven images. There are plenty of modern substitutes — things folks worship in place of God, and often unawares. An idol is anything you look to for approval, safety, security or happiness above (or in addition to) God Himself. Here are a few examples:

Are you afraid to mention the name of Jesus when talking with friends? Your idol is the approval of others.
Do you trust that God will provide, or do you freak out when the market crashes and you lose everything? Your idol is a full bank account and gleaming financial portfolio.
Are you unwilling to trust God with handling your child's life instead of fretting and micromanaging? Your idol is your child.

Being Self-Satisfied.

You can't experience God's sufficiency if you think you don't need Him. If you trust in you, and believe you're enough on your own, well … meet the idol of "self". You were never meant to be self-satisfied or self-sufficient. These sins lead down the path of pride.

Taking Offense.

Bitterness. If it isn't caught early it will grow, poisoning your heart and mind. When tragedy strikes, when life isn't fair, when you nurture an angry grudge against God … beware. Taking offense at your Creator only serves to harden your heart.

This doesn't mean you can't be real with Him. On the contrary! The Bible is filled with the cries of people like David and Job — men who loved God and yet authentically aired their grievances with Him. God already knows what you're feeling towards Him. Talk to Him about it! Allow the pain and anger to flow. But do so from a humble, teachable heart. He may not give you answers, but what He gives you is much greater. He gives you Himself, and an invitation to experience that He is enough.

Having Little Faith.

Unbelief stumbles all of us from time to time. It's important to recognize this as sin, however. Lack of faith is not a little thing, nor is it merely a weakness. Without faith it is impossible to please God.

The book of Hebrews warns against "an evil heart of unbelief". Discovering this really knocked my socks off! I've had little faith many times in my life. But, it wasn't until I identified this as a sinful attitude that God was able to change my heart. I now repent when I notice my trust in Him wavering. I then ask for forgiveness, and the Holy Spirit gives me His strength to overcome.
THE BLESSINGS OF EXPERIENCING GOD'S ENOUGH-NESS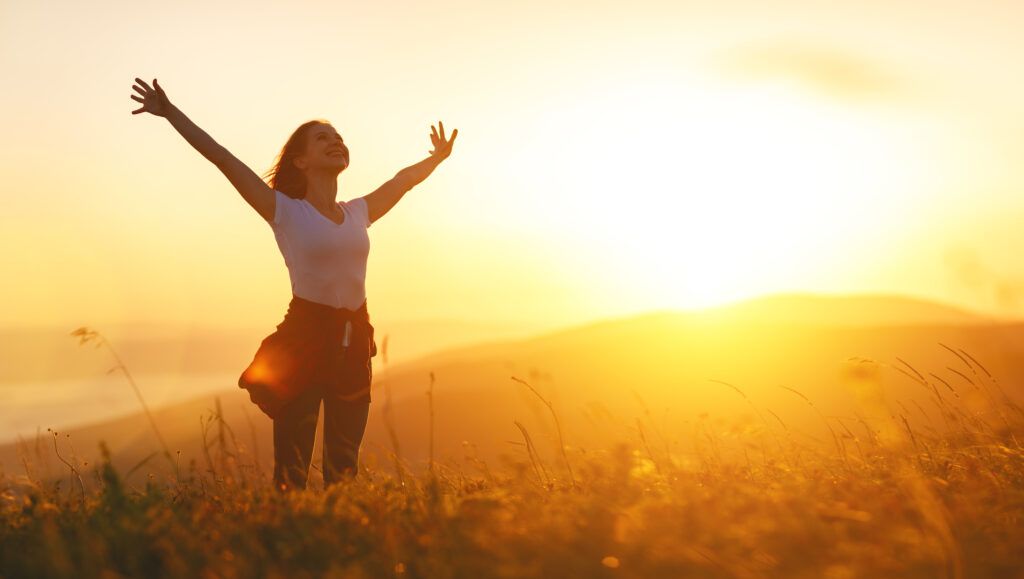 No matter where you're prone to stumble, know that you can have victory over sin. God's Holy Spirit dwells inside every born-again believer. If you've surrendered your life to Jesus and placed your faith in His sacrifice for your sins, this includes you. Victory over sin is possible through His power. His grace is enough for you!
Here are the blessings you'll experience when you trust in God's provision:
Humility. Joyful dependency upon God is the fruit of humility. On your knees, gladly surrendered to the will of God, you trust Him to fill all your needs. Freedom and joy abide here.
Contentment.  Fruitless striving ceases when you believe that God is enough. No more stewing. You are satisfied in Him.
Divine Fellowship. Once you've learned total dependency upon God, the depth of connection with Him becomes boundless. I have tasted it — less frequently than I'd like. But I know His fellowship. My hope is that you will too.
HIS MERCIES ARE NEW EVERY MORNING
Wherever you're at in your walk with Jesus, know that His mercy and grace are fresh every morning. He is patient and kind. When you stumble and fall, repent, and He forgives and refreshes your soul. Instantly! You can get up and walk in His enough-ness all over again.
You will never exhaust the fullness of God's grace and sufficiency. Nevertheless, I hope you'll join me in spending eternity trying. ?
……………………………………………
As always, I welcome your questions, comments and insights below. — Ali ?