Recall a time in your life when the world was fascinating. Perhaps you were a child. Nature, and life in general, was full of wonder — and your five senses were the eager tools of exploration.
LIKE A CHILD
Touch, taste, sight, smell, hearing. Everything was a fresh experience. Without realizing it (or even trying), you were living in the moment.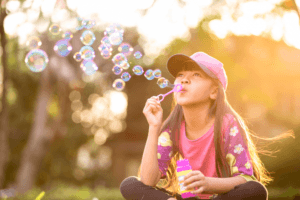 Children don't need to practice mindfulness. They live it. It's how they experience the world.
As you age, often the wonder fades and sensory awareness dulls. Your mind is elsewhere — thinking about yesterday or tomorrow or at least the next thirty minutes.
What about NOW? That's where you are!
THE BENEFITS OF MINDFULNESS
Though grownup responsibilities make planning necessary, it's important to intentionally ground yourself in the present. The benefits of this practice (called mindfulness) are many:
stress management
emotional balance
mental clarity
But most of all, being in the moment refreshes your perspective.
WHAT REALLY MATTERS IN YOUR LIFE?
This question matters.
Because, dear reader, it's here, in the moment of simply being, that you can meet with God.
He is the great I AM. That's one of  His many holy names. It's profound. He is the Eternally Present One. He always has been. He always will be. But where He meets with you is in the now.
GO AHEAD — NOURISH YOUR SENSES!
So! It's time to reclaim that precious childlike wonder by nurturing your senses.
I've been on an adventure — finding little things to enhance your everyday sensory experience. In the categories below you'll find exceptional products that have personally pleased my senses. I believe they will enliven yours too.
Will you join me in this exploration of sensory essentials? Just click the sense you're seeking and prepare for bliss:
Blessings to you, and enjoy the journey!
– Ali 🙂