Is your yoga practice plagued by wrist pain? Mine was, until I learned to alleviate pain and prevent future injury with simple modifications. Now my wrists are stronger than before and my practice flourishes. Relief for wrist pain during yoga can become a reality for you too, by following the tips below.
HAPPY WRISTS START WITH PROPER ALIGNMENT
I could have avoided the need for a wrist wrap early on, had I learned this one helpful tip:
Don't dump the weight into your wrists!

This may sound easier said than done, especially for a beginner with little core or arm strength. But there are simple solutions for making Tabletop and even Downward Facing Dog accessible, regardless of your limitations.
While experiencing an asana (a yoga pose), proper alignment is essential. It's more about what's going on inside your body than about achieving a certain appearance.
Table Top and Downward Facing Dog are asanas central to any Holy Yoga routine. Both of these require at least some wrist extension. When it comes to wrist pain, extension is the most common concern. Just so we're on the same page, here are some helpful terms: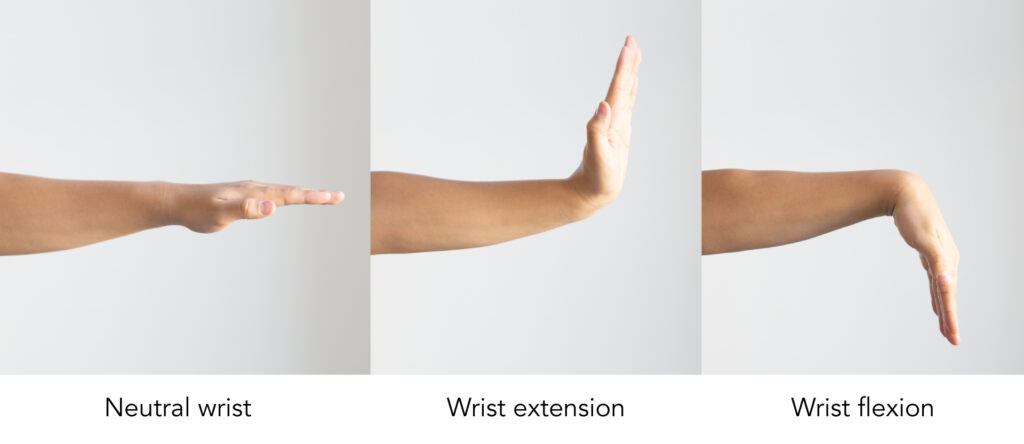 Table Top is the basis for numerous floor asanas. Downward Facing Dog is central to standing yoga flows, and is designed as a resting pose. With good alignment and practice, you'll learn to enjoy these postures just as I have.
Every body is different. There are a variety of ways you can tweak these asanas to make them work well for you and your wrists.
THE POSE: DOWNWARD FACING DOG
This familiar form is pictured below, in all it's glory.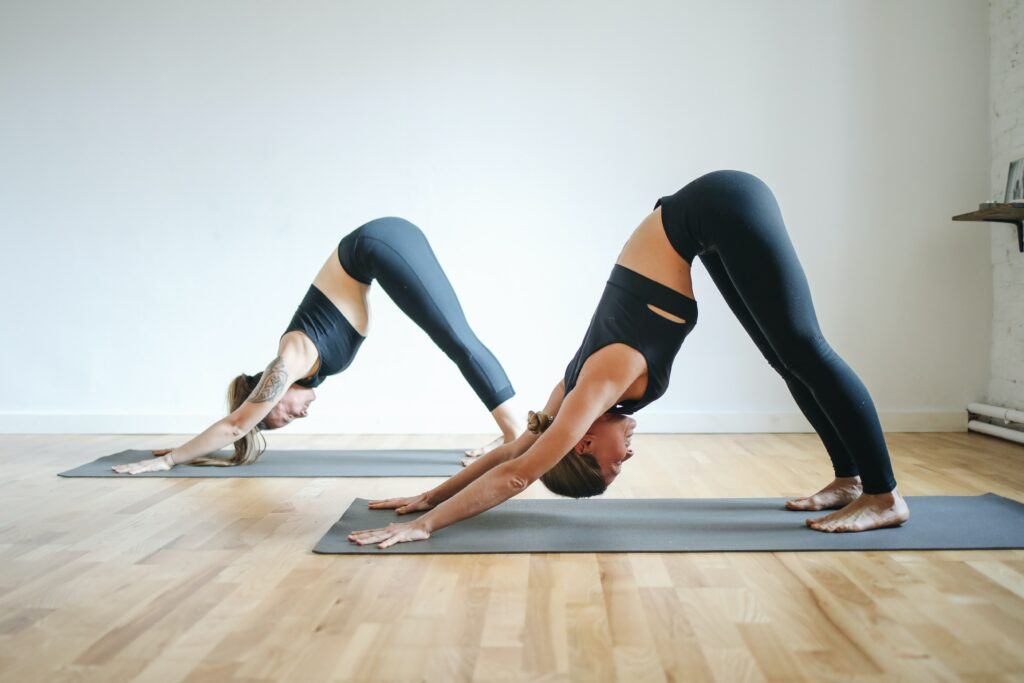 These women possess the necessary arm length, strength, and calf flexibility to create picture perfect Downward Facing Dogs. But Holy Yoga isn't about picture perfect. It's about creating a practice that's perfect for you, and with just a few adjustments, that's what we're going to do.
Take a look at their wrists. Because these ladies have ideal arm length and calf flexibility, they can shift more weight into their feet, drawing the heels down. This lightens the load for hands and wrists. Notice that their wrist  extension is slight. That means minimal strain. Hands are spread wide, pressing down through the finger pads, and there's lots of length in their spines.
I'm going to show you how this pose, given some adjustment, works beautifully for those with shorter arms, tight calf muscles, and weak wrists.  In other words, those of us who aren't proportioned exactly like the ladies above. 😉
DOWNWARD FACING DOG: YOGA HACKS FOR HAPPY WRISTS
Take a close look at the following photos. They offer two easy asana tweaks for mitigating wrist pain.
Bend your knees. Deeply! If tight calf muscles are pushing your weight forward, take a load off by bending your knees. Lengthen your spine, drop your head, and draw your heels towards the ground. Shift the weight out of your wrists and into your feet.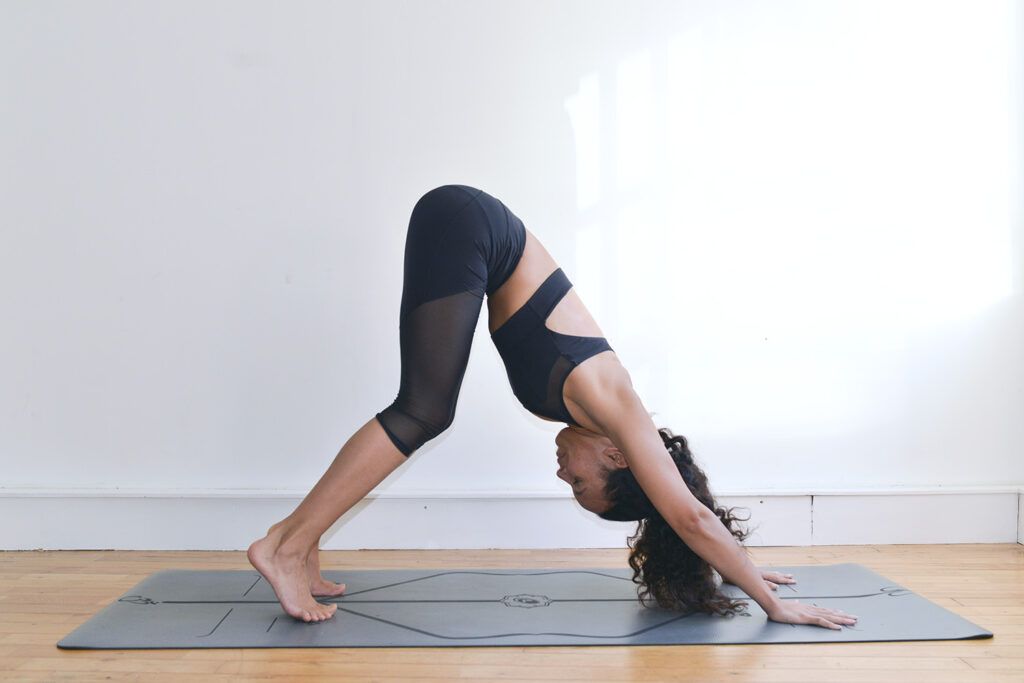 Place a block under each hand. This is a great yoga hack for those with shorter arms. Again, the weight is lifted from your wrists and moves towards your heels.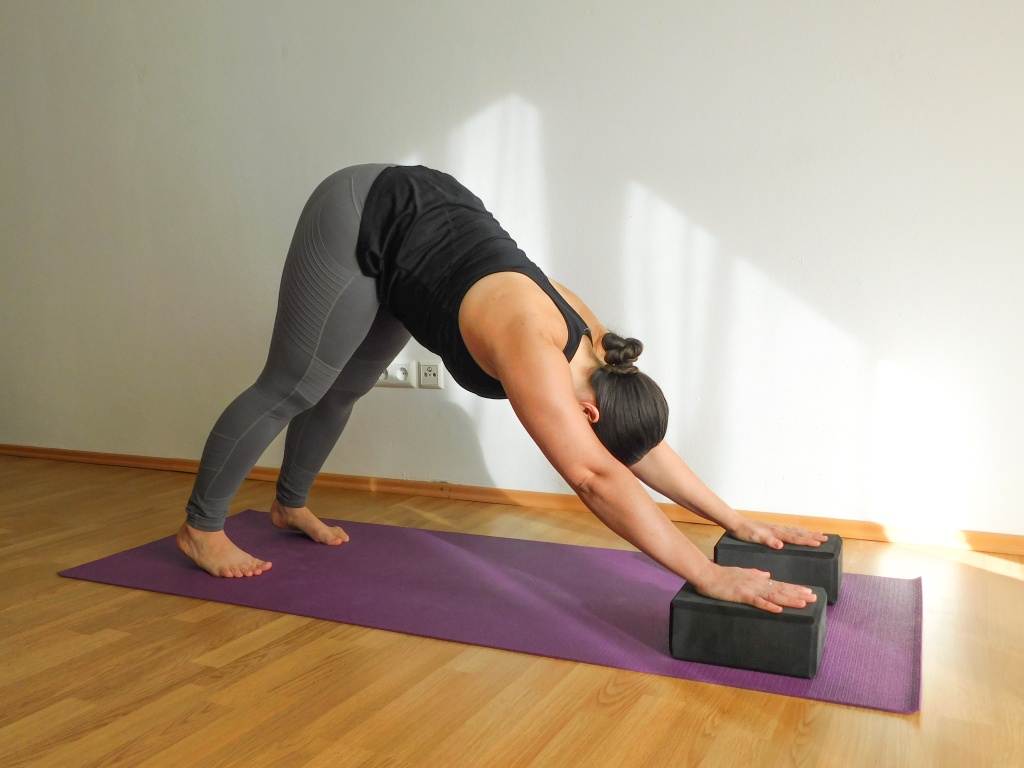 THE POSE: TABLETOP
Like Downward Facing Dog, Tabletop is also a resting pose, but for asanas practiced on ground level. The wrist extension required for Tabletop is significantly greater than what's needed for Downward Dog. Take a look at her wrists in the photo below.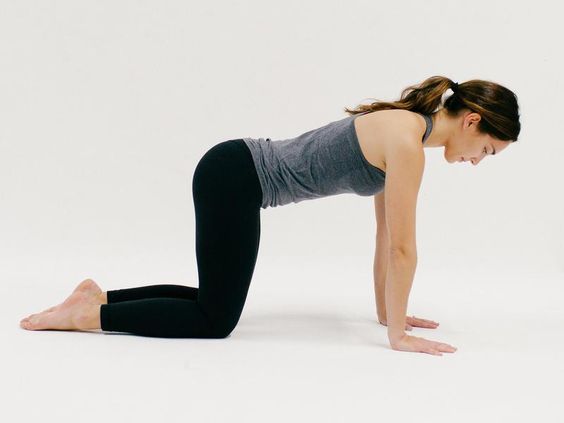 Spending a lot of time with wrists locked in this position is bound to aggravate tender joints. I've learned to add variations to my Holy Yoga flows, allowing for wrist relief. For example, adding wrist rotations after Tabletop, or even some wrist flexion exercises, will restore balance. Creating a gentler overall Tabletop experience is simple with the following modifications.
TABLETOP: YOGA HACKS FOR HAPPY WRISTS
Use your fists! This is simple and doesn't require extra props. There's no extension at all, though you'll want a nice squishy mat to keep your knuckles happy.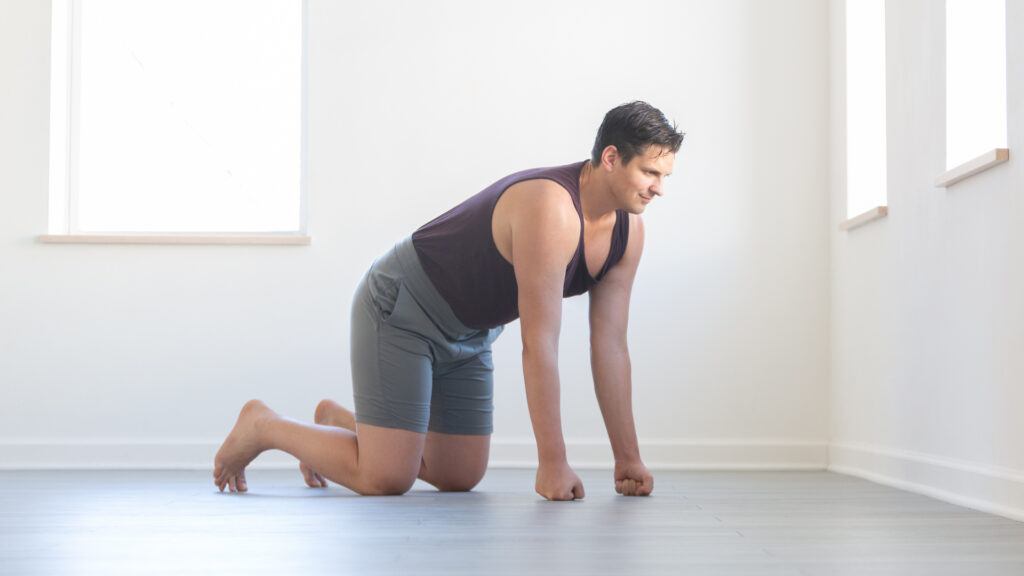 Bring in the blocks. Yoga blocks are relatively easy to come by. Even Walmart sells them. In this image, our yogi is using blocks as forearm rests. There's no pressure on the wrists, and they maintain a neutral position.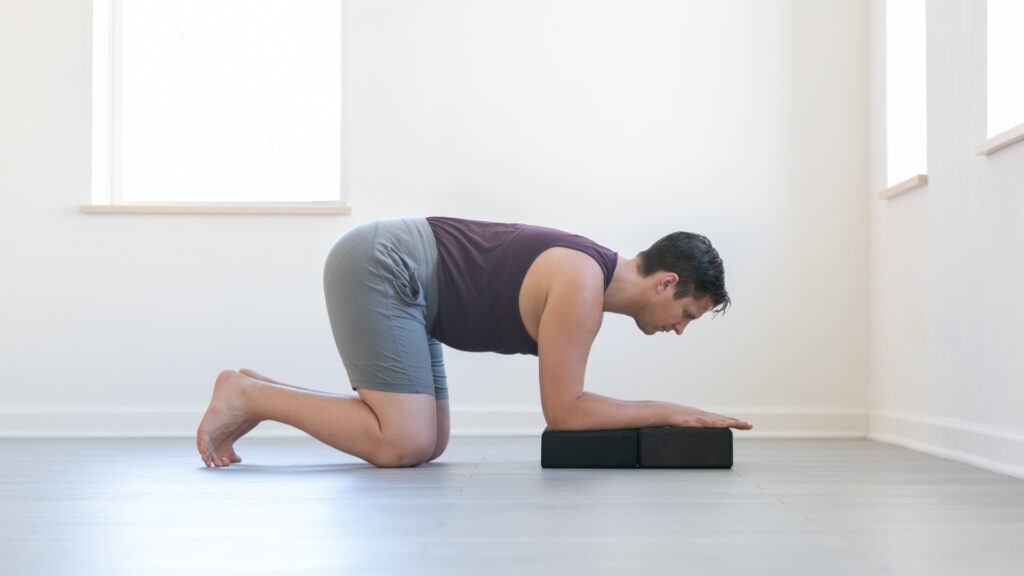 I'm saving the best for last! Best, in my opinion, because I just love these amazing squishy wrist savers. They provide a grippier surface than blocks do, don't put pressure on your knuckles like fists do, and still reduce the angle just enough to provide wrist relief. A wedge will also do the trick, as pictured below.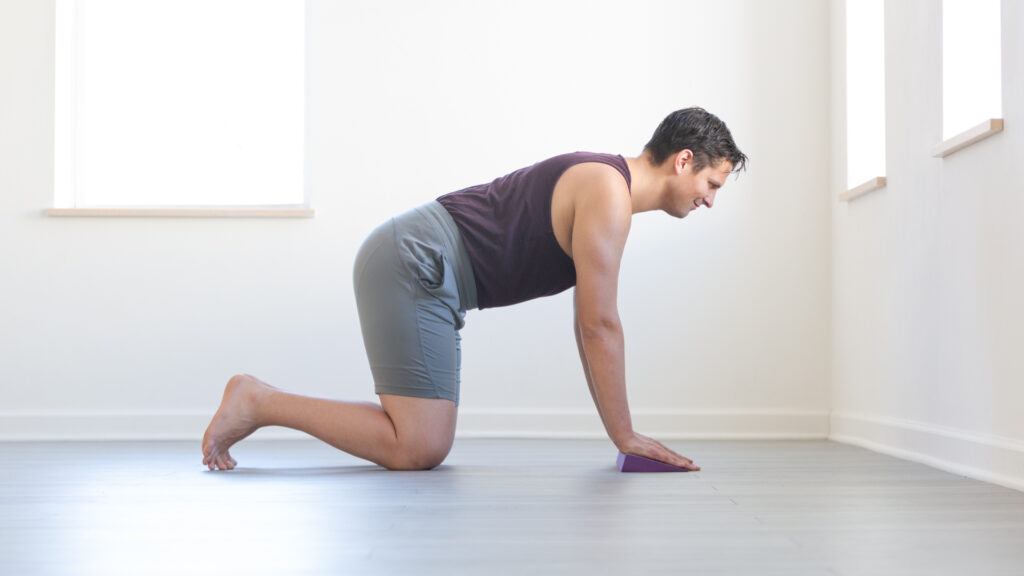 This is my preferred wrist-rescue technique. I just swap out the wedge for Yoga Jellies! Go ahead, click that highlighted link. Not only do Yoga Jellies offer great cushioning under the heels of your hands (as shown in the photo below) …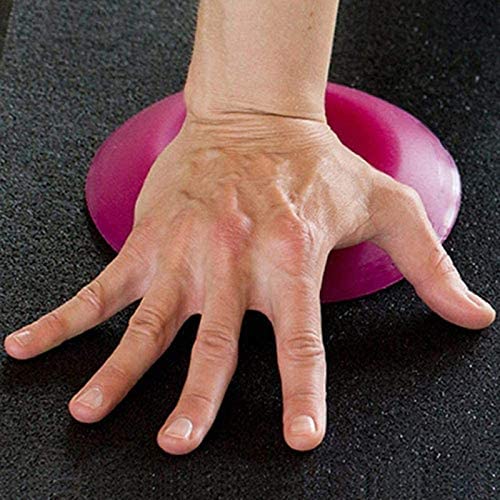 … but you can also use them under your knees (and tailbone, hipbone, etc.)!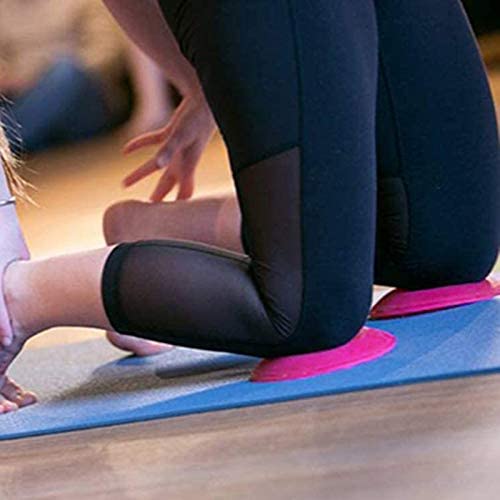 If you're looking for nearly the same wrist benefits, the Yoga Wedge is available for a lower price point (click the highlighted text). It's more affordable than the Yoga Jellies, but not as adorable and squishy. 🙂
WRAPPING UP THE WRIST PAIN: YOUR TAKEAWAY
As a good blogger, I do want to refer you to the wrist pain specialists. Of course, I am not a doctor and none of the suggestions I give should be taken as a promised remedy. Go see your doctor if wrist pain persists.
That said, I can give testimony to my wrist experience. After too many Downward Facing Dogs done improperly and many a Tabletop, my right wrist became very sore. I did not go to a doctor, but rather searched for a wrist wrap online. I used this wrap while in Downward Dog, and it helped a lot. I limited Tabletop time, and used the fist and block modifications. After months of love, proper alignment, props, and some carpel tunnel exercises I found on YouTube, my wrist is at ninety-nine percent. It still crackles once in a while. I still take care of it. My practice of Holy Yoga continues, happily.
Finally, aren't you itching to try some of these props and poses in an actual Holy Yoga class? Well, now you can! Holy Yoga TV is available online, and they are offering freebies too. I've found a free gentle class with Randi Wells, just for you: Click Here and Happy Holy Yoga-ing.
As always, I welcome your questions and comments below. 🙂