On a quest for natural, effective, affordable household cleaners that smell good? Then check out my three fave go green cleaning products! Perk up laundry and dusting day with natural scents that lift your spirits right along with those stains. And these beauties work hard for you!
I present to you: the essential-oil-kissed surface cleanser, the kick-butt boutique laundry detergent, and the air mist match made in heaven. All readily available and a couple internet clicks away.
Get ready to suds up!
WHAT MATTERS TO YOU? — THE GO GREEN CLEANING CHECKLIST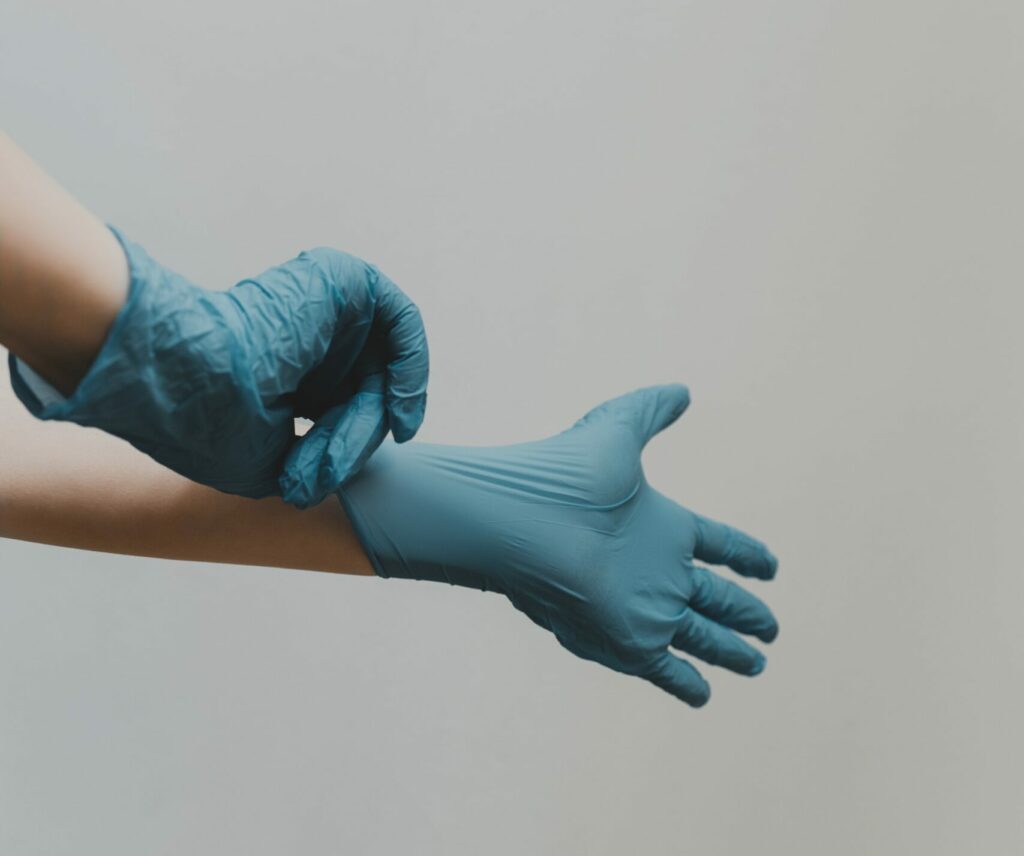 You have to clean. Dirt happens. So why not throw in some health and happiness? Make cleaning a mindful experience and you'll benefit too.
How did these products rise to the top of my picks list? By meeting — and exceeding — four criteria:
Natural and Cruelty-Free. — They meet the "go green" requirement and say no to animal testing.
Good Smelling. — They deliver an uplifting, light, plant-based scent.
Effective. — They actually WORK!
Affordable. — They are reasonably priced. Quality costs a little more than bargain basement, but fractionally. And it's worth the health and planet-friendly benefits.
Do these four requisites match yours? Then get ready to freshen your clean routine with some stellar scrubbers! ??
PURACY | THE NATURAL SURFACE CLEANER THAT LEAVES A LEGACY

Do you seek simple living? Then why use a different cleaner for each task? True, sometimes you need a really hard-core oven cleaner, but more often than not, a simple surface soap covers all the bases — toilets, floors, counters … even bathtubs (perhaps with a scrubby pad and some extra elbow grease). And Puracy's Natural Surface Cleaner does just that!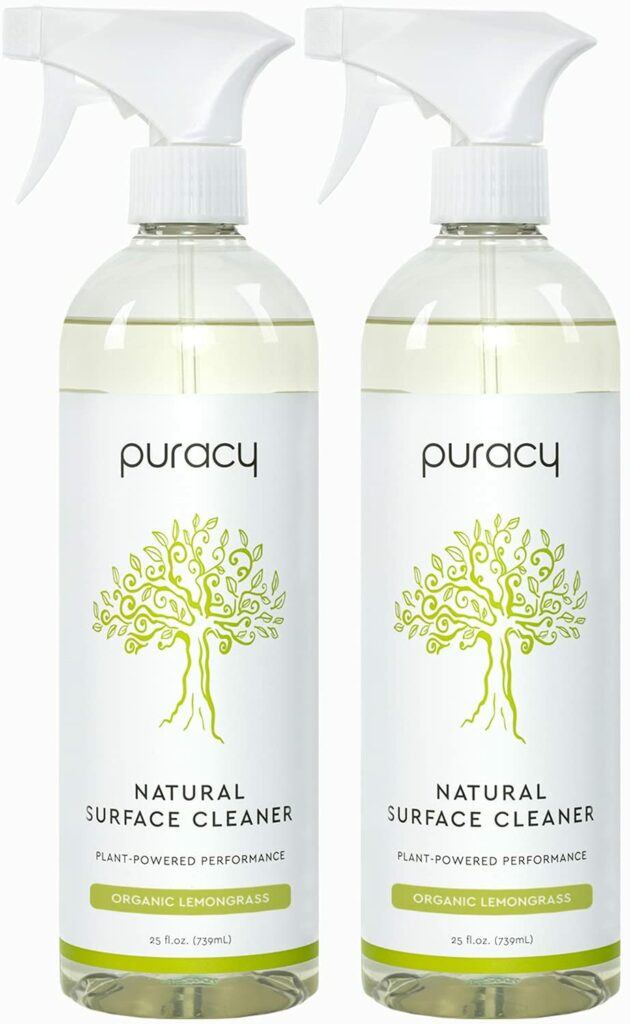 Natural and Cruelty-Free

This plant-powered out-performer ticks the go green box. At 99.96% natural it's safe to use on any surface that children, pets or food come into contact with. No animal testing either.
Good Smelling
I'm a sucker for lemongrass. It's such a lovely, light lemony scent, and with some grounding grassy notes. Puracy's Natural Surface Cleaner smells lovely, without any artificial fragrance additives.
The ingredients include: Purified Water, Vegetable-Based Cleanser, Plant-Based Cleanser, Biodegradable Preservative, Plant-Based pH Neutralizer and Organic Lemongrass Essential Oil.
Effective
It works, dear reader! Puracy is guaranteed to safely clean any hard surface without streaking.
And a little goes a long way. Half a pump on each countertop, rub with a wet rag (for greater absorbency I use Softtolle's Kitchen Bar Mop towels) and I'm done.
Spray it under the toilet rim and follow with brushing.
Soak the tub's grimy ring and scour away.
Or drop a cup-full into a bucket of hot water and let the mopping begin!
Affordable
Are you sold yet? The price is just as impressive. Pictured above, Puracy's Natural Surface Cleaner goes for $11.99 on Amazon for a two-pack ($5.99 a piece). That's fair pricing, and consider the legacy you'll be leaving. Puracy promises that "every bottle sold supports charity, artists and conservation."
GREENGO | THE BOUTIQUE CLEANING COMPANY THAT'S SETTING A NEW STANDARD


They're new on the national scene and headed for greatness. GreenGo Cleaning Co. — a family owned and operated business — brews exceptional natural cleaning products.
Their tag line? "Making Magic Since 2018".
Magic, huh? That's a big word. Hyperbole? Not a bit. Magic is exactly what these folks are up to in Pisgah National Forest, NC. ???
THE GREENGO STORY
In the woodland's heart, Shane Bragg handcrafts small batches of earth-friendly cleansers and sprays. She's no stranger to natural remedies, having grown up in Central America with her cleaning-enthusiast Mom. Highly allergic to fragrances, Shane sought out essential oils and natural products early on. She applied her cooking skills and worked tirelessly, developing products to match her high standards — those of quality and sustainability. Rigorous testing ensued. Perfecting each recipe took months, sometimes years.
Shane never imagined GreenGo Cleaning Co. would grow into what it is today — a company of seven team members and a household name in her community.
And the magic is spreading! Over here in Washington state, I've fallen in love with her green cleaning products and sprays. Though my review features two products — the Laundry Powder Detergent and Air Mist — there's so much more.
Get ready to have your expectations blown away.
GREENGO CLEANING CO. | THE LAUNDRY POWDER THAT WOOED A LIQUID-LOVER
Are you a creature of habit? I am. I've always used liquid laundry detergent. Don't know why, really. It's what I'm used to. Sometimes I just don't have the energy to try something new. Sad, I know. ?
As a result, I was hesitant to try GreenGo Cleaning Co.'s Laundry Powder Detergent. But, I'm so glad I took the cold water plunge! This clothes cleaner ticks all my boxes, and I expect the same for you.
Here's all the magical green goodness in a nutshell (acorn shell?) — ??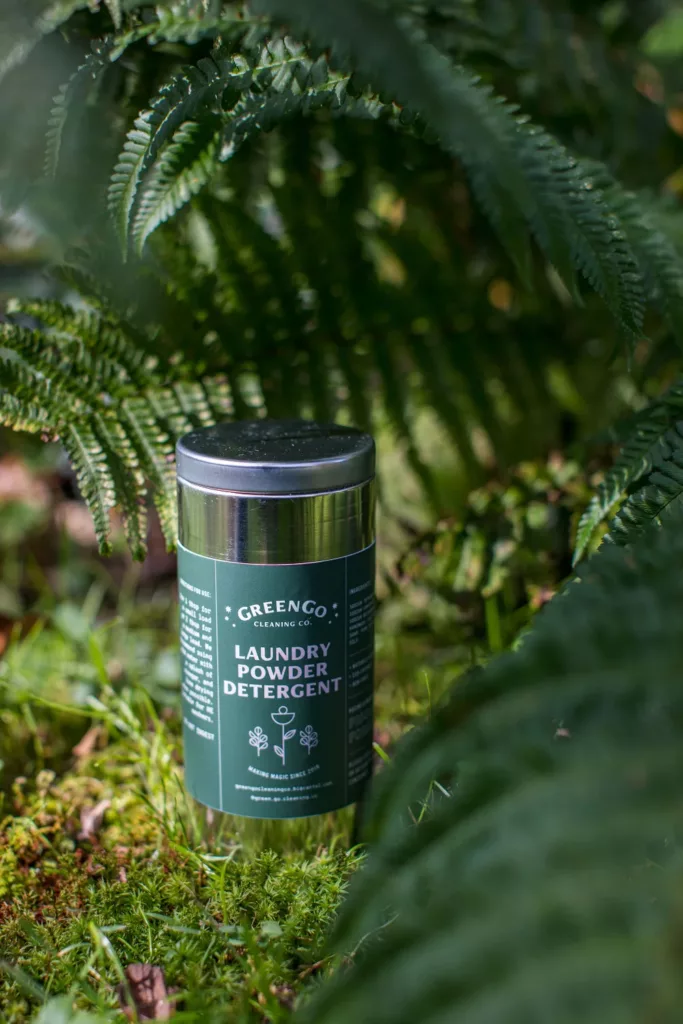 Natural and Cruelty-Free
Check! The label states: naturally effective, eco-friendly, non-toxic.
Ingredients include: sodium tetraborate, sodium carbonate, sodium bicarbonate, handmade cold-pressed soap, pure essential oils.
Good Smelling
A light, refreshing fragrance — like an earthy rosemary. I can't quite put my finger on the scent, but I like it.
The directions suggest using one tablespoon for a small load or two for larger loads. Shane also recommends adding a splash of white vinegar to the rinse cycle.
If you want that nice "freshly laundered" scent to linger, I'd recommend using two tablespoons. White vinegar, added later in the rinse, ups the cleaning power without making your clothes smell like salad dressing (a fear of mine).
Effective
Yes! In fact, I found it more effective than my usual liquid laundry detergent by Seventh Generation.
And how do I measure clean? White socks! Throw them in dirty and see how they come out. My socks came cleaner than prior washes — a key indicator of product effectiveness.
Affordable
Like all GreenGo's products, this Laundry Powder Detergent is fairly priced. A one pound metal canister (yielding 20 to 25 loads) is $16.00.
Use the code GREENGO10 for 10% off your order — a special discount for Moment by Moment customers.
GREENGO CLEANING CO. | THE AIR MIST MAGIC OF LEMONGRASS AND LAVENDER
Ooooooo! I am saving the best for last, my green clean-seeking friend!
This essential oil spray was my first introduction to GreenGo Cleaning Co. and it's still my favorite product. The scent synergy is scrumptious! And believe me, I've smelled a lot of aromatherapy spritzers in my time.
Yes, it ticks all the required boxes. But above all:
It. Smells. Amazing! 
You must get the Lavender Lemongrass blend.
Natural and Cruelty-Free
Check! It's packaged in an eco-friendly (and fragrance-friendly) brown glass bottle.
Ingredients include: Grain Alcohol, Water, Pure Essential Oils, Castor Oil.
Good Smelling
Lemongrass Lavender. I'm sure there must by others out there who've paired these two oils, but this was my first experience. It wowed me. If you're a fan of lavender, adding lemongrass mingles notes of grassy citrus, lightening the earthy base. If that makes any sense to you.  It's calming with a slight lift.
Remarkable. I will be coming back again and again for this one.
Effective
An effective fragrance neutralizes odor rather than just covering it. I use this Air Mist in the bathroom where it does the job nicely. As a natural essential oil blend it also bares the benefits of aromatherapy.
According to an article by Healthline, lemongrass essential oil helps relieve stress, anxiety, and depression.
Further research reveals that lavender promotes calmness and wellness.
Science and health aside, this scent synergy simply makes me happy.
The packaging is effective too. The mister works well, sending very fine particles of fragrance heavenward. It doesn't fall fast, and there's no oily film found on surfaces later. The bottle preserves and disperses it's contents effectively.
Affordable
This is very fairly priced, and competitively so. Compare GreenGo's  prices to anything at Whole Foods, and this boutique cleaning company stands the winner. A long lasting, four ounce Lemongrass Lavender blend is $12.00. I suggest planning ahead, bundling all your GreenGo purchases, and then shipping becomes cheaper.
MAKE A DIFFERENCE BY CHOOSING GREEN CLEANING PRODUCTS

Join me, and let's support small businesses of excellent quality — like Shane Bragg's GreenGo Cleaning Company. In so doing we take part in improving the lives, health and happiness of people, animals and earth.
Then hopefully, someday soon I'll find this exceptional company's cleaning products in a Washington market. Til then, there's online shopping.
……………………………………………………………
I love your feedback! What natural products do you like? Please! Clean, Smell and Share. That's what we do here. I look forward to your comments and questions below. — Ali 🙂