Is there any fruit or vegetable that inspires — and symbolizes — such happiness? It's time for a post in praise of pumpkins! Let's count the virtues of this harbinger of autumn delight. 
ROUND, ORANGE, AND ALL THINGS HAPPY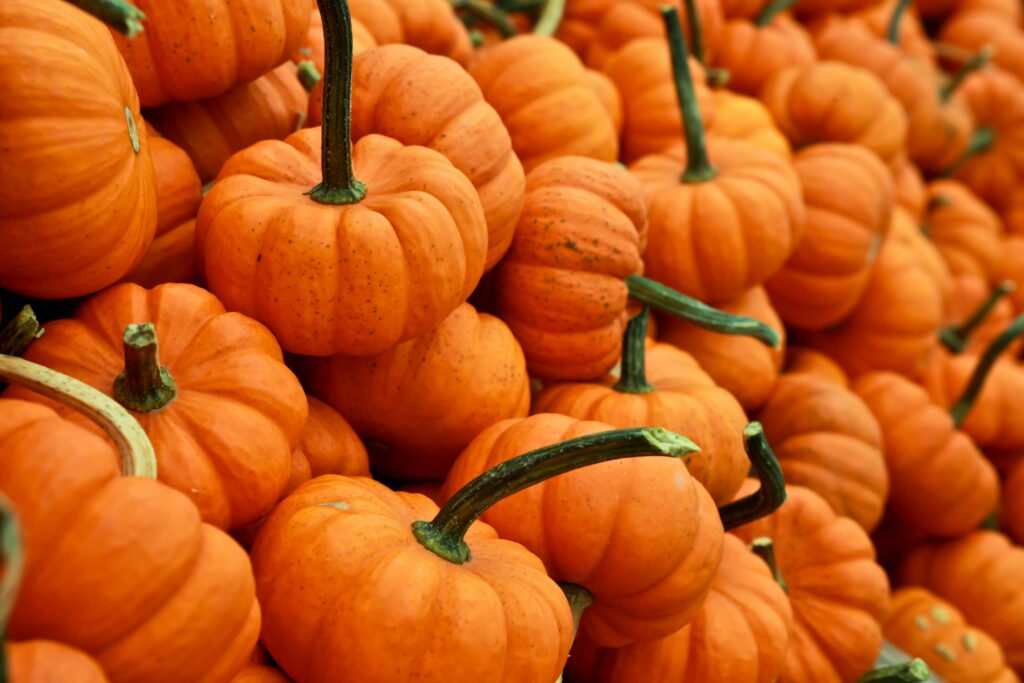 What's not to love? When it comes to a total mindfulness experience, the pumpkin's got you covered. In keeping with this exploration of sensory awareness, let's start with sight. 
Round things are made for happiness. There are no harsh edges. Perhaps this is why teddy bears aren't square? (And certainly why humans aren't!) Curves are made for hugging!

Orange! It's a warm color, reflective of the autumn leaves (if nature treats you to their splendor … colder climates win the lottery here). And who doesn't love warmth during pumpkin season? There's definitely a chill in the air. You know, "sweater weather". If you live in a tropical climate like I do, this means you can finally wear pants. Yay! Entirely new wardrobe options open up. Definitely cause for celebration.

HUGS ALL 'ROUND!
It's time for touch! Come on, break the ice and at your next Thanksgiving celebration give everyone their own pumpkin … to hug!
Okay, I might be slightly kidding, but you know, it sure beats pouring another drink once the topic of politics comes up. (Oh Lord, may it NOT! Let's have some discretion, people!). Here's the remedy:
If arguments arise and tensions build, give people time out with their pumpkins. "Go to your corners and cuddle your pumpkins. Now! Or there will be no pie." ?
In fact, now that we're on a roll, why not include some pumpkin mindfulness activities for this festive occasion? Starting with touch: 
Get everyone to close their eyes and hold out their hands. Then plop a pumpkin in their laps. Leave a couple minutes and encourage tactile exploration of this natural delight. Suggest that everybody breathe deeply.

What sensations do you feel? How would you describe the texture of the skin, the stem, the bottom?
THAT HOLLOW SOUND
 And, we're ready for the sense of sound! Open those ears. 
You've never heard a pumpkin giggle, right? ? Probably a good thing. They aren't entirely silent, however. Perhaps between salad and main course there will be time for more mindful engagement with that special orange orb?
With eyes closed, have your guests place an ear on their pumpkin, and begin some gentle finger tapping.

Encourage exploration of other ways pumpkins can (surprisingly) break through the silence barrier. Yes, this may be a riot (and maybe you do want a drink after all). That said, there's something really cool about that hollow thud you hear when a pumpkin gets a tapping. It's a deep, layered sound … hollow and … (you decide what else).
A SUBTLE SCENT
Haha! You thought I was going to have the guests smell pumpkin pie, didn't you? But noooooo, they are gonna carve the stem out and smell what real pumpkin smells like … without any help from cinnamon, nutmeg, clove or cardamom. It's a subtle, delicate fragrance. Let them experience that first.
 And then, bring out the pie! Before any bites are taken, suggest your participants close their eyes and spend a few seconds inhaling the aroma of fresh baked pumpkin pie. You might ask them some of the following questions:
 

Now that you've smelled a fresh, natural pumpkin's scent, do you still notice it amidst the pie spices?

What spices can you pick out — with just your nose?

Do these particular spices enhance the natural pumpkin fragrance? Can you even

smell

the pumpkin amidst the medley of spices? (I think you can smell it. It's faint, but the rich squash-like aromas are unmistakable).
IN PRAISE OF PUMPKINS — A MATTER OF TASTE
 It's the moment you've all been waiting for — devouring a slice of delicious pumpkin pie. Before your guests dig in though, why not give them a taste of the original? After all they've already cut the top off — time to scoop out some pumpkin goop and taste it! Offer these questions for discussion:
 

Have any of you ever tasted raw pumpkin before? What do you think?
 And now, it's legendary pie time. ?Enjoy!  Consider these queries for conversation:

How do these spices enhance and elevate the natural pumpkin flavor?

(A note to the host: Look into the origins of the traditional pumpkin pie spice blend.)

Who invented this fragrant concoction, and when?

Sustain this ambience of pumpkin bliss throughout the evening with some spicy aromatherapy — essential oils inspired by the season. Delicious and all natural, I recommend Woolzies Pumpkin Pie Essential Oil Blend.
HOW PUMPKIN MINDFULNESS SAVED THANKSGIVING
This is not far fetched, my friends! By offering a light and engaging topic for evening discussion, your guests will leave having learned something new. And whether the wine flows or not, perhaps a political argument or two will be avoided — all thanks to the humble pumpkin. ?
IN CONCLUSION
This Thanksgiving evening has been brought to you by mindful awareness, proving that processing something as simple as a winter squash (through the magic of your five senses) perpetuates joy, enlivens minds, and even calms the clamor between Republicans and Democrats. Long live the pumpkin! ?
 ……………………………………………………
I love and welcome your feedback! Share your thoughts, comments and ideas below. And remember to carve out time for giving thanks this Thanksgiving. — thankfully yours, Ali ?