If life is a stage and all the men and women merely players, Who is watching us? And who are you performing for? Hopefully an audience of one. Here's a hint — that one it isn't you, and it's definitely not other people.
God is your audience.
ARE YOU A PEOPLE PLEASER?
I am.  It's something I need God's continual grace to overcome.  It's not wrong to want happy relationships with others – that's good!  But when does this become a performance? And who should I be trying to impress anyway?
The Bible calls this earth-bound hunger for affirmation 'the fear of man'.  Proverbs has much to say on the subject:
The fear of man brings a snare, but whoever trusts in the LORD shall be safe. (Prov. 29:25)

On the other hand:  The fear of the LORD is a fountain of life, to turn [you] away from the snares of death. (Prov. 14:27)

And: The fear of the LORD is the beginning of wisdom, and the knowledge of the Holy One is understanding. (Prov. 9:10).
There's only one person in the crowd whose opinion of you really matters, and that's God. He is your audience of one.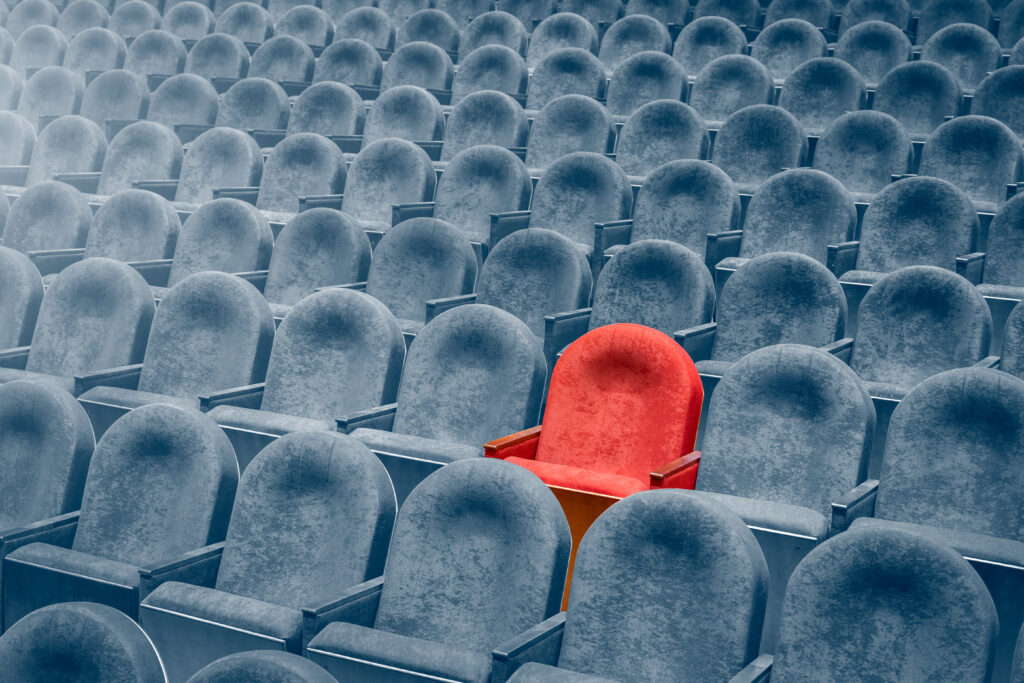 So what does this have to do with the spiritual discipline of rest?
THIS MEANS YOU'RE GOING TO HAVE TO SAY  'NO'.
Saying 'no' to people isn't easy, but it's necessary if you're going to spend  one day  a week resting in the Lord and enjoying the fruit of that rest.
You can't do everything or be everything to everyone.  Nor should you even desire to be!  It's a heart full of love that wants to give of itself, but it's a foolish heart that gives until the well is empty.
You can't 'be Jesus' to others.  They need to learn to find their provision in Him, and you need to take time to be refreshed by the living water only He can give (John 4:10).
Mary, sister to Martha and Lazarus, knew this very well.  Here's an amazing snippet from her life:
Jesus came to a village where a woman named Martha opened her home to Him. She had a sister called Mary, who sat at the Lord's feet listening to what He said. But Martha was distracted by all the preparations that had to be made.  She came to Jesus and asked, "Lord, don't you care that my sister has left me to do the work by myself? Tell her to help me!'

"Martha, Martha,' the Lord answered, "you are worried and upset about many things, but few things are needed – or indeed only one.  Mary has chosen what is better, and it will not be taken away from her.'  – Luke 10:39-42
CLOSE TO HOME
Does any of this sound familiar?  At least most of us can relate to Martha.  But now and then, I feel that kinship with Mary, and I pray that you do too.
Martha was doing what comes naturally – wanting to prepare a lovely meal for her special guest. But somewhere along the way she got distracted from what really mattered.  She got caught up in the details and the fussing. How easy it is to do.
Who was she performing for? Who was she trying to please? Was it Jesus? Maybe at first, but soon it was all about food and entertaining.  Martha wanted to make a good impression, but in doing so she missed the eternal significance of the moment.
And then there's Mary – beautiful in her humility and simplicity.  Sitting at her Master's feet, listening, hanging on every word.
MARY WAS NOT LAZY
Martha says: 'she left me to do all the work', meaning that she'd been helping earlier.  If Mary had been overly sensitive to Martha's opinion, she would have stayed in the kitchen, choosing to busy herself with 'many things', rather than the 'one thing', the 'better' thing, that Jesus provided.
There is fellowship and wisdom that come only from sitting quietly at the feet of God. Mary was soaking in the presence of her Audience of One, while she herself sat in His audience.
Yes, there is a time to be busy in the kitchen, to provide nourishment for your family and your guests.
But wisdom comes in knowing when to put down the dish scrubber and enjoy the presence of your guests. This is as true in your fellowship with Jesus, as it is in your earthly social gatherings.
If your goal is to have the neighbors talking about the amazing home decor and culinary delights you provided, then your heart is in the wrong place.  Praise is a fine by product, but that prideful intention does not please your Father in Heaven.
THE DISAPPROVAL OF OTHERS
Mary learned to say 'no', and enjoyed the eternal riches of spending time with her Lord. She was still a hostess, but her priorities were in the right place. She was criticized for it, and so will you be, if you follow her example.
Taking that Sabbath of rest, worship, and fellowship will ultimately mean that you occasionally say "no" to the invitations and needs of others.
Let it be so.
With your eyes on Jesus, working with the strength He provides, and resting when He says so, you'll wind up pleasing some others along the way.
Those you don't please will observe your priorities, witness the fruit of the Spirit in your life, and hopefully join you someday, at the feet of Jesus.
JESUS IS YOUR AUDIENCE OF ONE
What are the 'few things' that are needed in your life right now?  Indeed, 'only one.'  May your intention be to please Jesus, and Him alone. In doing so, you will make Sabbath rest a priority, and find the ability to serve others with His strength, rather than the limitations of your own.
…………………………………………………………
Thanks for reading! Please share your comments and insights below. I will always respond. Blessings to you, Ali 🙂