Why are shower heads so wimpy these days? Do you find yourself longing for a magical spa experience – with actual water pressure? The best shower head ever takes care of all that for you, without any plumbing know-how or big spending. And, mindfulness bonus: this rainfall shower head enhances your sensory experience off touch. True relaxation is moments away.
TURNING MONOTONY INTO MINDFULNESS
Monotony is heavy. The rigor of empty routine weighs you down. But on the up-side, the tiniest treat for one of your senses can elevate your mood and refresh your perspective.
 Daily tasks, devoid of meaning, precipitate boredom. Showering, for example, can feel like a chore. In reality it's a blessing to even have clean water, let alone a shower. But this knowledge and gratitude don't always abate feelings of drudgery. I'd honestly rather be done with it and move on to the napping. Or, ahem, skip the hygiene for a day (which I have been known to do). Gasp! ?
 Rather than mindless washing, a mind-full showering experience awakens the physical sensation of touch. Sound boring? Not at all, if you practice the discipline of mindful awareness. The results are potentially refreshing – in more ways than wet. What you need is a cheap and easy way to mix things up.
INTRODUCING THE BEST SHOWER HEAD EVER!

 Can a shower head rescued you from the drudgery of routine bathing? Perhaps not entirely, but this one definitely sparks the imagination. I know it will enliven your senses as it did mine. Introducing the Circle Splash Rain Shower Head (click the link to view on Amazon). Check out this picture. This is real, people! The waterfall actually looks like this.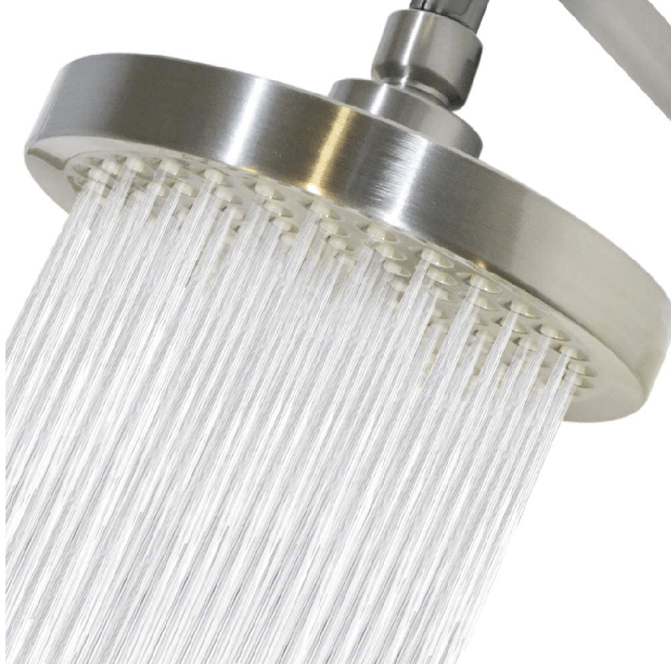 What makes this six inch brushed nickel rain cloud so great? Unlike others, it has a removable flow restrictor. This means: No more wimpy water pressure! It's powerful, but not so intense as to be painful.
The best shower head I've ever used isn't from a ritzy spa. Nope. It's only $28.99 on Amazon, and it's now in my own bathroom. Simple and sensational.  No tools or plumbing knowledge are required.
And just FYI, I never recommend anything on my website, EVER, unless I wholeheartedly believe in it. This rain shower head is no exception. I actually look forward to showering as a treat now, not just something else I need to squeeze in before bed, when I'm already tired and would rather just zone out on my phone (not the healthiest alternative, I know).
DOES THE BEST SHOWER HEAD WASTE WATER?
 The thought behind flow restricting heads is that the more slowly water comes out, the less there is to be wasted. Well, I haven't done any experiments, but I'll tell you that I'd much rather spend an exhilarating ten minutes of high pressure delight than a frustrating twenty minutes under the dribbles of disillusionment. With the latter, less water escapes down the drain per minute, but I'm also in the shower for twice as long, counting every weary drop. Does that save water? I don't think so.
A LITTLE BONUS – THE SENSE OF SMELL
Are you ready to welcome even more scent-sory awareness into your washing routine? I recommend using Jason's Calming Lavender Body Wash. It's natural and nourishing. One of my all-time favorites.

THE SIMPLE SENSE OF TOUCH: WRAPPING UP (WITH A TOWEL?)
 It's simple but far from boring. Sometimes you just need to relearn how to experience old sensory pleasures in new ways. It's impractical for your mind to fixate forever in the moment, but it is an essential routine practice for clarity and peace of mind. A little thing, like a new shower head, might be all it takes to boost your mood and add some shine to the humble practice of personal hygiene.
 As always, I love your questions and comments! Do you have a favorite bathing product or ritual? I'd love to hear about it below. ?