Pine tree boughs, spruce, Douglas fir — when's the last time you crushed their needles between your fingers, and inhaled? You can bring the festive simplicity of evergreen boughs indoors, without any fiddling or crafty know-how. No wreaths, no garlands — just pure raw nature. And it's so simple! Craving some mindful jollyness this holiday season? Then read on!
ACCIDENTAL MINDFULNESS

Sensory pleasure often arrives unexpectedly:
That surprisingly soft tee-shirt you tried on at Gap,
the shock of cold wind that takes your breath away,
the muffled scrunch your boots make as you tramp through the snow,
the scent of pine that lingers while you drive past the Christmas tree farm,
the giddy yummy-ness of an impromptu hot chocolate run. ?
If your default setting is "must follow the plan" or "stick to the shopping list", you're probably really good at meeting deadlines and balancing the budget.
But there's something lost when you shut out all spontaneity — primarily the joy of living in the moment. After all, you can't schedule everything. So try to hold that "to do" list lightly, and make room for the sensory wonders God has in store for you today.
WELCOME DISTRACTIONS

I say this as I push the earplugs deeper, trying to block out my husband's work-from-home "phone voice". ?
When you've got to focus, distractions must go. So, when can you safely and sensibly permit diversions? How focused do you need to be when you're grocery shopping? Bring the list, but allow your mind to wander.
This was my approach recently, while making a trip to Trader Joe's. It's such a fun food store!
Fitly, what greeted me at the door wasn't the essence of cinnamon and apple cider — it was the whispered scent of evergreen needles. That smell, especially while living in Florida, has become so special to me. There aren't a ton of pine and spruce around here, but Joe had made up for that — bringing cedar and its relations to the floral department.
SAY "YES!" TO EVERGREEN BOUGHS!

The thing is, I have neither the interest nor the patience for Pinterest crafting. Evergreen boughs weren't on my grocery list either. But never mind that.
I squeezed a couple needles between my fingers and inhaled! So. Very. Good! I was buying a bough. What to do with it would come later.
By making room for sensory awareness, I said "yes" to experiencing the festive refreshment and vitality of evergreen trees. My mind dropped its heady plans and took a pause. Busy thoughts dissipated as I welcomed this moment — noting God's goodness, His presence, and thanking Him for the wonders of nature.
THE FESTIVE SIMPLICITY OF EVERGREEN BOUGHS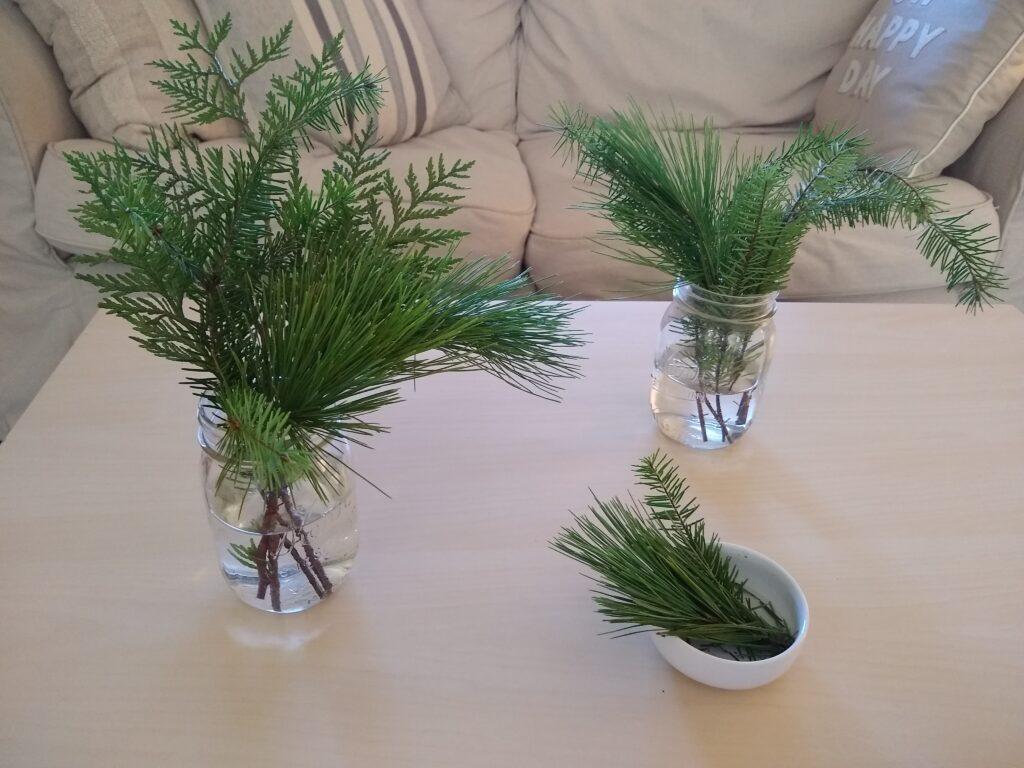 As you can see from the image, spreading evergreen cheer throughout my home was pretty easy. Simple arrangements like this place nature's raw beauty on display. Create your own evergreen forest experience in three easy steps:
Buy an evergreen bough (or two!). ?
Buy some mason jars. They are useful for so many things, besides being perfect affordable vases. You can store nuts, seeds and snacks in them. In fact, you can store pretty much anything in them.
Trim your boughs into little bunches of various sizes and divide them between the jars. Add some water and you're done!
Scatter these cute bundles of greenery throughout your home — anywhere that feels like it could use a pop of vivid green or the occasional whiff of Northern forest.
A TOKEN OF ETERNAL LOVE

These simple samplings of nature serve as a reminder: of life in the midst of winter dreariness; of steadfast love and faithfulness in an uncertain and wavering world.
Nature is God's masterpiece. You can learn much about an artist by viewing his work:
Since the creation of the world, God's invisible qualities—His eternal power and divine nature—have been clearly seen, being understood from what has been made. — Romans 1:18 (NIV)
The ultimate goal of mindfulness is not sensual pleasure or momentary clarity. God alone provides the context. Focus on your senses, linger in the moment, with the intention of worshiping your Creator. And thank Him for the beautiful things He's made.
Allow the allure of evergreens — life in the midst of winter's deadly chill — to inspire you. They symbolize life — resilient and green in every season. Look up, and see the One behind it all — Jesus — the Creator and Savior — God with Us. His mercies are new every morning. He offers eternal life and endless love.
Will you believe and receive His gift? Then humble yourself, and walk worthy of His calling:
But now that you have been set free from sin and have become slaves of God, the benefit you reap leads to holiness, and the result is eternal life. For the wages of sin is death, but the gift of God is eternal life in Christ Jesus our Lord. — Romans 6:21 (NIV)
…………………………………………..
How have you brought the outdoors in, amidst changing seasons? Any tips or tricks you'd like to share? Simple ways to practice mindfulness and experience nature year round? I'd love to hear your ideas. Please share below, and I wish you a blessed Christmas this year. — Ali ?❤️