Quality AND cuteness? Behold, the rain boots for women who love springtime (minus the wet feet). All these outdoorsy rubbers have style to boot!? I've owned — and vetted — all four contenders. So grab your umbrella and let's do some puddle jumping!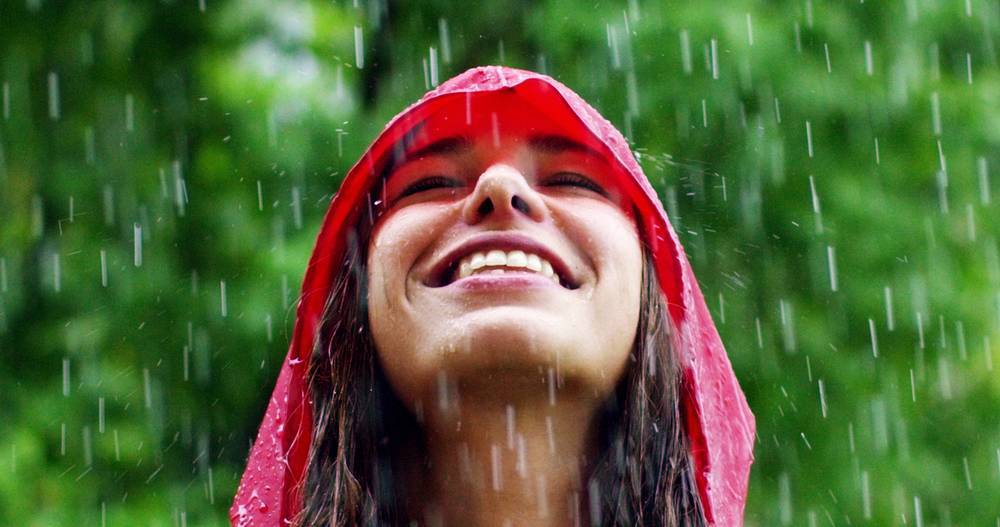 If you're a mindfulness enthusiast, a little weather doesn't dampen your day. It just provides a richer array of sensory pleasures! This is especially true if you live where rain is seasonal. Whether it's Florida's summer downpours or Washington's winter drizzles, precipitation needn't keep you indoors.
What's essential, dear friend, is a good pair of waterproof shoes. After all, you can't smell the rain without stepping in it.
1. RAIN BOOTS FOR WOMEN WHO LIKE MUD, NOT BLISTERS
These are your typical booties — and paired with the proper socks they will take you through muck and mire without complaint. And I should know! My short-styled Crocs rain rubbers faced their initiation on a local sheep farm! ? I even walked there and suffered no blisters.
So here's the reveal — my cute rain boots for women who trudge through the mud are:
Crocs Women's Shorty Rain Boots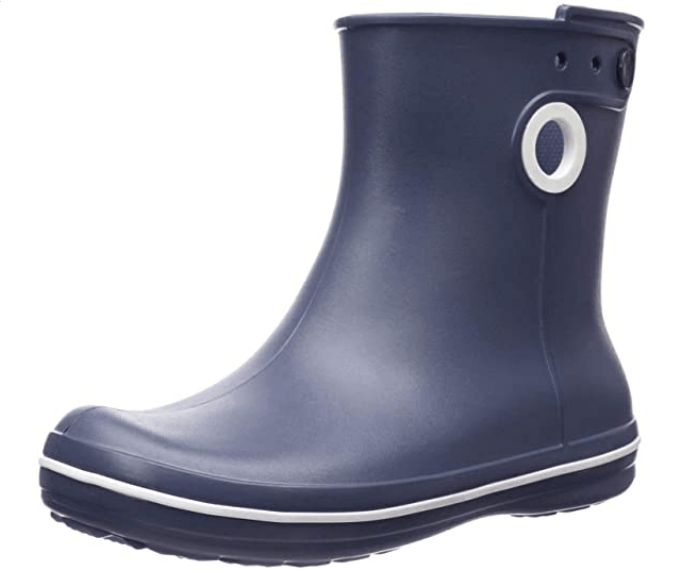 Not only do these cuties keep your toes dry, but thanks to the finger holes they're easy to get on. To get them off? Just kick!
And, since these rain boots aren't ginormous, you needn't worry about tripping over your own two feet (as I had been known to do with the clunkier brands).They are just tall enough to keep your pant legs tucked in too (provided you aren't wearing capris). Click here to view the Crocs Shorty Rain Boots on Amazon.
While you're at it, why not maximize cushioning and prevent shin chafing with comfy knee socks? Try these on for size: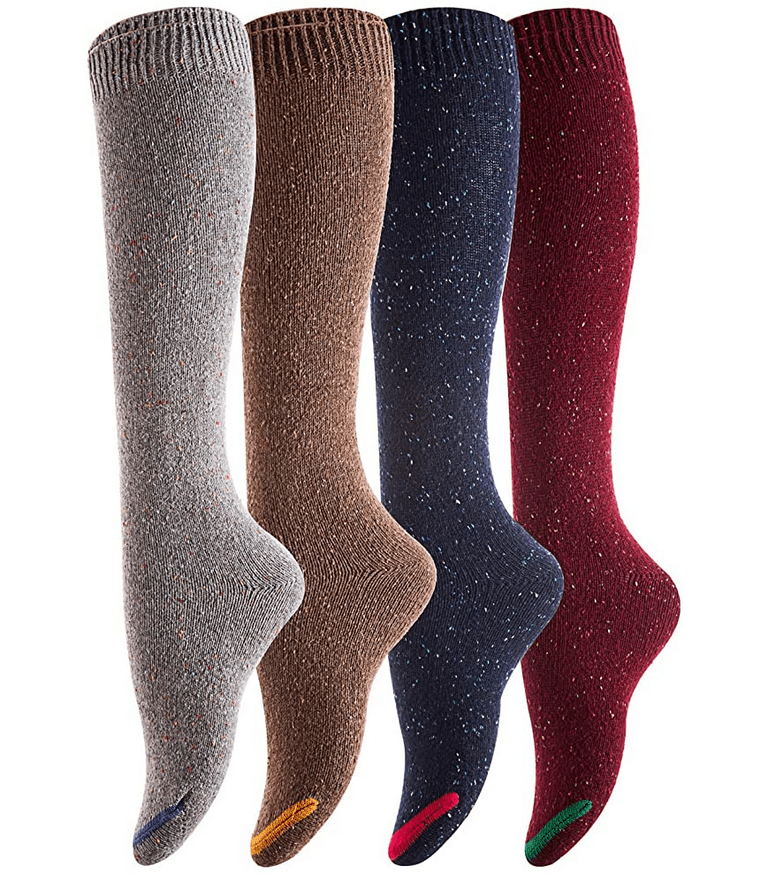 They're the right height and thickness without being scratchy. Very soft and cozy. After many washings, these Knee High Socks (Annie Brand, available on Amazon) are still ready for more adventures.
2. WATERPROOF SHOES FOR WOMEN WHO LIKE HIKING, NOT PRUNE-TOES
I just had to say that.? You know what I mean — when your feet have been wet for a long time, your toes start to wrinkle like prunes!
This will NOT be happening if you've got yourself a pair of:
Merrell Women's MOAB 2 Waterproof Hiking Shoes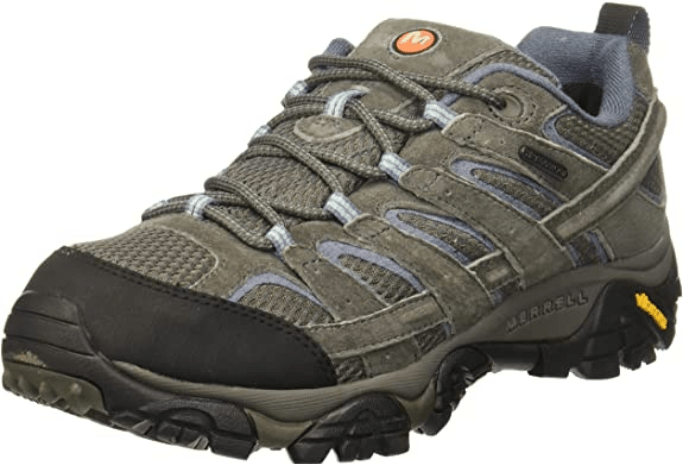 Now, I'm no hard-core mountain woman, but wandering through the Pacific Northwest's towering evergreens definitely brings me joy. This is forest bathing at its finest. The smell of pine air, the mulchy thud of earth beneath my feet — it's magnificent!
Whether you're trekking through the Appalachians or exploring Olympic National Park, your feet will thank you for these cozy, rugged hiking shoes.
Waterproof?
They are — amazingly — waterproof!
I have tested these miracles of footwear in streams that threatened to swamp my ankles. Not a drop permeated the lauded M Select Dry fabric.
According to Merrell, this material seals out water while simultaneously allowing moisture (like foot sweat) to escape. The result is dry feet on the move. I am duly impressed, and I think you will be too.
Browse your Merrell women's MOAB 2 waterproof shoe options here, on Amazon.
I also appreciate this super cute design — complete with an adorable finger loop at the heel (see image below).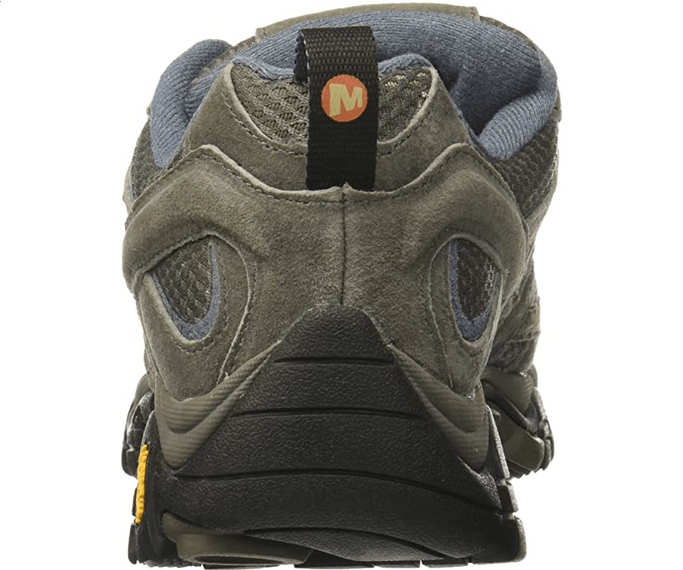 Oh! And FYI — the acronym MOAB stands for: Mother Of All Boots. ???
3. TREKKING SANDALS FOR WOMEN WHO LIKE BARE FEET, NOT LACERATIONS
Hands down, my favorite hikes have been in Florida's Gulf Coast mangrove forests. The soggy ground is covered with breathing roots. Fiddler crabs vie for an audience while tiny snails — by the thousands — slowly ascend and descend tree trunks — in pace with the tide's ebb and flow. Birds, lizards, hermit crabs, mullet fish, raccoons, turtles . . . What a menagerie of life!
And how do I navigate this watery landscape? In my Keen sandals, of course!
Keen Women's Whisper Closed Toe Water Sandals

Shod with these babies, I slosh through flooded coastal swamps — fully experiencing the balmy Gulf waters — without cutting my feet! In mangrove forests, the water sometimes comes up to your knees. Here, Merrell hiking shoes just won't cut it.
And so, I fell in love with Keens! The benefits?
Waterproof.
Flexible soles. It's almost like going barefoot — they are that supple.
Essential toe protection, plus …
Never a worry of losing a shoe. Straps are adjustable and can be tweaked to fit your feet.
Click here to find your Keen Women's Whisper Closed Toe Water Sandals on Amazon.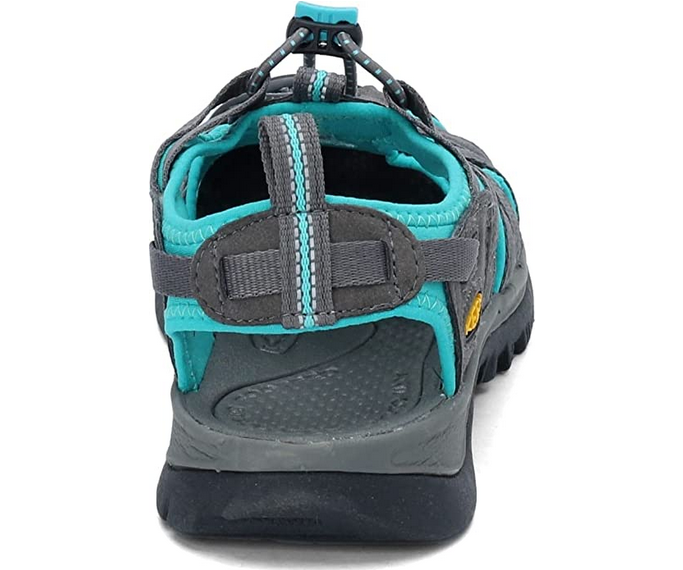 PS. Note the very cute heel tab — a big help in peeling these off after a day of mangrove swamping.
RAIN BOOTS FOR WOMEN — THE CLASSIC PUDDLE-JUMPER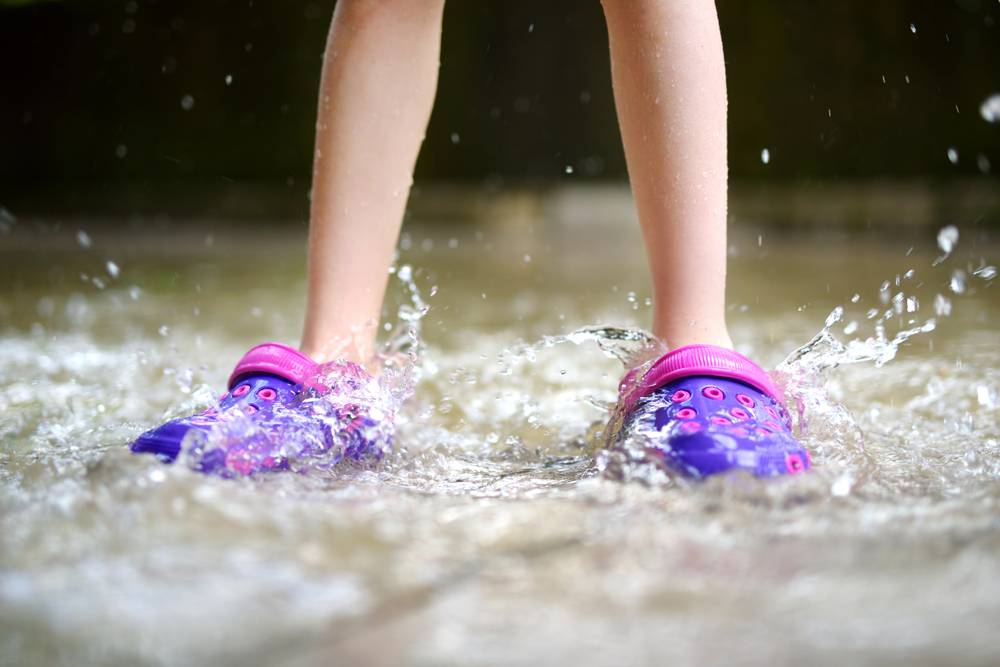 The take-away? No matter what the terrain, if you love the rain there's footwear to get you out there. This includes:
hiking through a Pacific Northwest forest,
playing in a sheep farm mud puddle, or
manatee-watching in a Gulf Coast bayou.
In Conclusion . . .
It seems fitting to finish this post with Mr. Basic — the grandfather of them all — the classic Croc.
I never get tired of these. In the garden, running errands on a lazy day, and of course sock-less in the rain — these shoes are timeless for a reason. Hey, they even come with a little strappy thing across your heel — with two positions. The forward angle makes your Croc a clog — the heel option makes it more a shoe.
Crocs Classic Clogs with Pivoting Heel Straps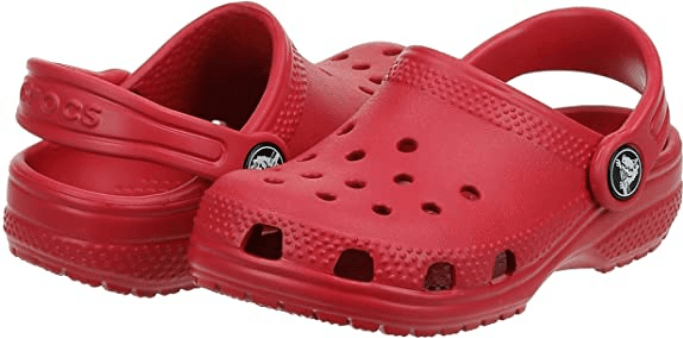 You can grab your pair of these oldies-but-goodies by visiting Amazon at this link.
So, whatever your puddle pleasure, it's not hard to find the footwear to match your enthusiasm. And then, just go with the flow! Let the rain douse your senses in a torrent of touch, smell, sound and sight. Taste too, if you're up for it.??️
……………………………………
What's your favorite footwear for water adventures? I'd love to hear, and so would our readers. Please share below. I value your comments and will always respond. Happy Trails! — Ali 🙂