I love toast — with butter. Can you really have the one without the other? So, if people are telling you how bad buttered bread is for you — baby, don't believe it! This article is pure fun. Will you join me in toasting crispy, gluten-y goodness? ???
SINGING THE PRAISES OF GLUTEN
Yes, I'm talking about real bread, not that fake gluten-free nonsense. Now don't get me wrong — if you've got celiac disease, this is no joke. But for those of us without gluten sensitivity, there are many reasons to celebrate toast — especially slathered with butter!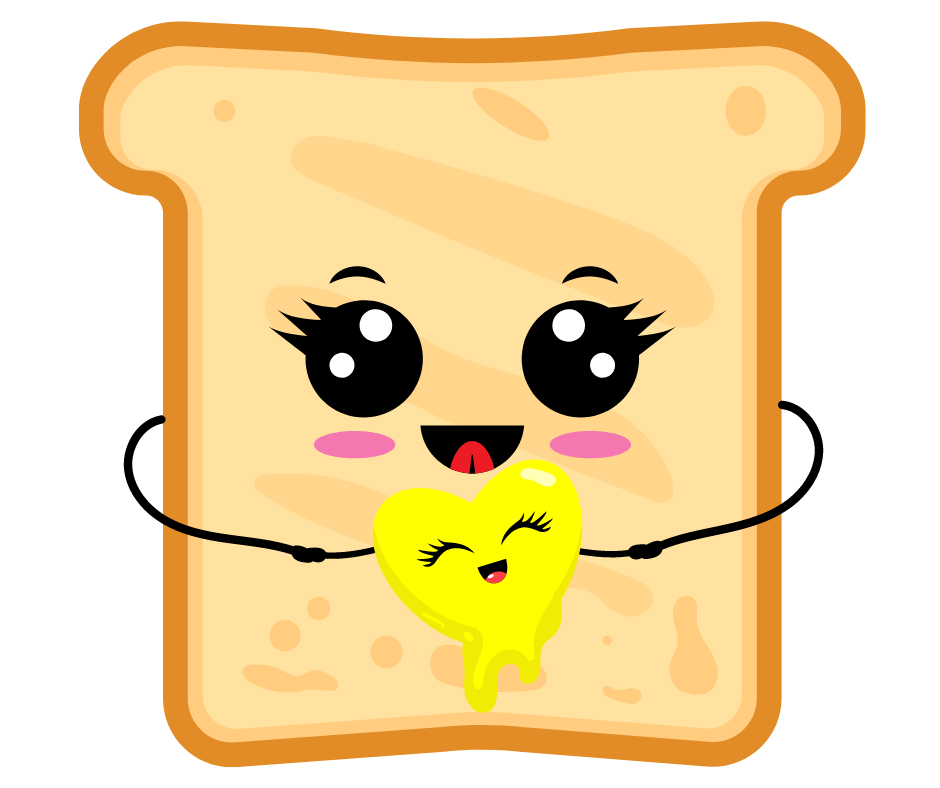 1. I LOVE TOAST — BECAUSE IT TASTES AMAZING!
There is nothing like buttered toast, in my opinion. Whether it's cinnamon raisin bread or a hearty 20 grain slice, add the butter and I'm in heaven.
Incidentally . . .
Why does toasted bread taste better than its fresh and squishy predecessor?
I don't think this is true for all breads, but it's accurate for most. And in my kitchen, bread reaches its highest potential when slotted in this baby (click the pic to see my toaster in all its glory on Amazon):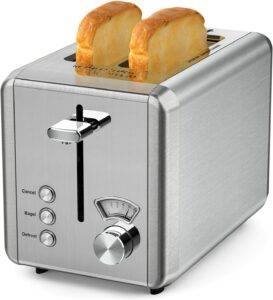 There's science behind toast's superior flavor.  My scholarly source? Don't ask, because I hate this magazine — but here's their article on why toast tastes better than bread.
And while you feed those brain cells, here are some pictures of real people eating toasty bread — fresh from the pan! This was taken during an amazing family Lefse-fest. If you aren't familiar, lefse is an amazing Norwegian potato bread made on the griddle.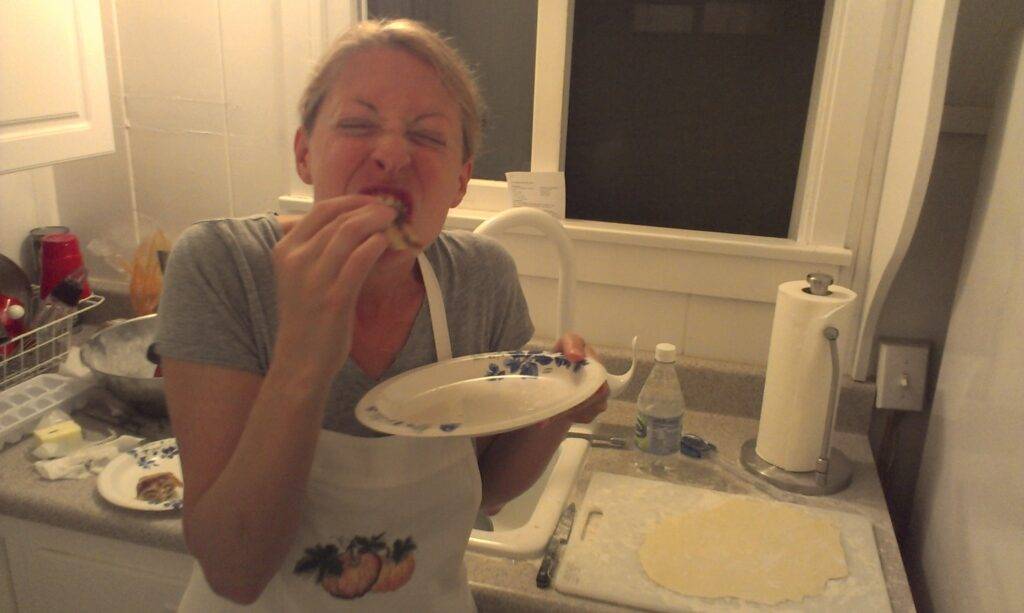 2. I LOVE TOAST — BECAUSE GLUTEN ALTERNATIVES JUST DON'T CUT IT!
Once my husband and I experimented with a gluten-free diet. I tried to buy him an exquisite artisan carrot cake — sans gluten. There was a boutique cake shop in Phoenix, AZ that boasted the prettiest confections. Unfortunately, they were also vegan. Which is fine for some things. But for foodies, cakes need eggs and milk — especially if there isn't going to be any real flour in the mix.
The cake was gorgeous and tasted like cardboard. Literally.
Now I'm not saying that you can't get used to eating gluten-free baked goods. But it will always be a compromise. My Northern European ancestors didn't eat gluten-free. Bread and butter was life's staple. Somehow I doubt it would have been, if rice flour was on the menu.
3. COULD GLUTEN-Y GOODNESS ACTUALLY BE GOOD FOR YOU?
You know it's what you want to hear.
But is it true? Not for everyone. If you have a gluten sensitivity, or suspect that you do, get tested. Here are some of said symptoms.
For the rest of us, there are many benefits to eating real bread — as some researchers have discovered. And these are the guys I'm listening to today. ?
Lowered Risk of Type 2 Diabetes
Reduced Risk of Exposure to Toxic Heavy Metals
Decreased Likelihood of Heart Disease
Reduced Risk of Colorectal Cancer
Avoidance of Excess Calories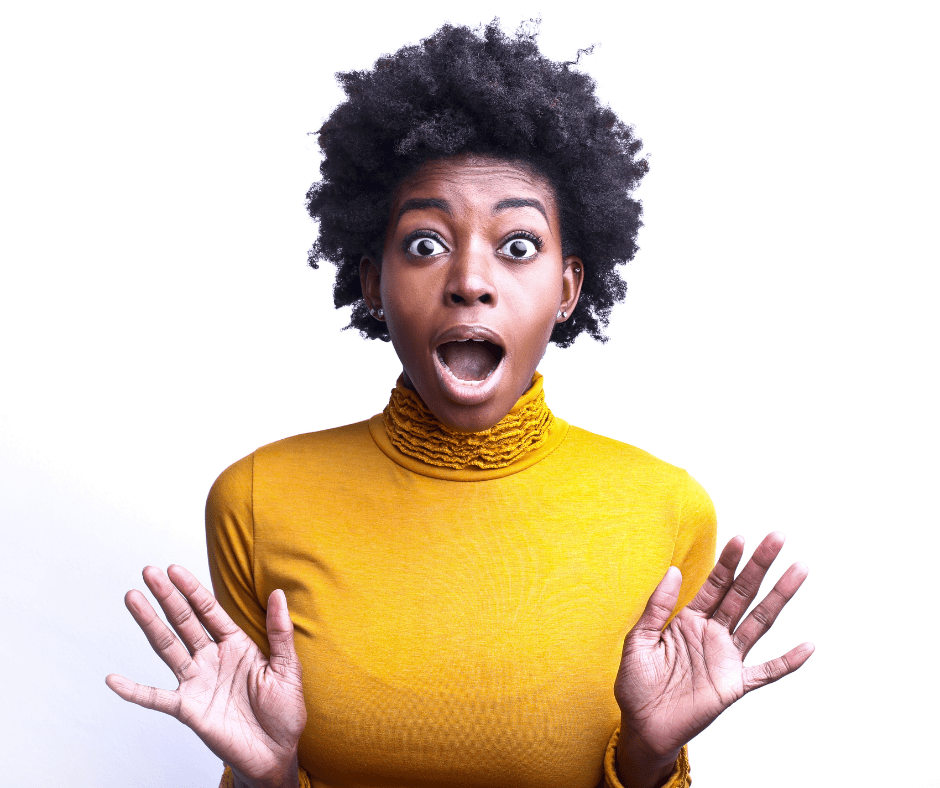 WHAT?! The second one makes a lot of sense, since gluten substitutes (and diets) are usually heavy on the rice and fish. Heavy metals build up in these foods.
But a lower caloric intake? Fascinating! Now again, you can spin this the way you want to. But there's research that shows a correlation. Why?
I haven't done a lot of digging, but it makes sense — when your taste buds are satisfied, the need to eat more, is less.
At least this has been my experience. One flavorful slice of real toasted bread trumps two slices of the rice-based alternative. When it tastes great, your senses are satiated more quickly. ?
For more on pro-gluten stats and research, I recommend giving medical doctor Joel Kahn's article (from which I gleaned these kernels) a read through.
SPREAD KINDNESS — AND BUTTER!
What would toast be without butter? Practically inedible is what.
I'm a big fan of butter. Let's see if that's healthy for you …
Tada!?
It is! According to an article for Healthline:
Butter contains CLA, a type of fat that may have cancer-fighting properties, help reduce body fat, and improve immune function.
So, don't eat the whole brick, I guess. But be reasonable, and put some butter on that bread!
Of course, listen to your doctor (something that I am not). This article is a celebration of what tastes good (without the boring stuff). ?
WRAPPING UP — FOR THE LOVE OF BUTTERED TOASTY BREAD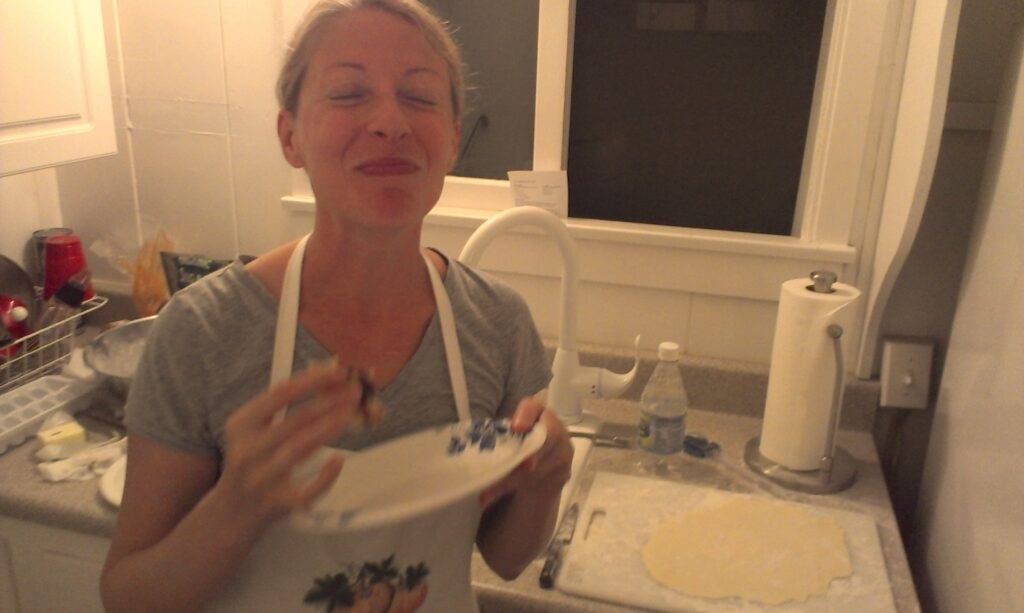 Treating yourself is a very good thing. Unless it's everything. But then it's not a treat. You see?
Eat practical portions, go for a forest walk, and try not to indulge before bedtime. Maybe try one of my Holy Yoga classes on YouTube!
Therefore, don't live on carbs alone, but enjoy them! And I think we can all agree that buttery toast is King of Carbs. Go ahead and bliss out on some Lefse (here's the recipe). I certainly did.
…………………..
Do you love toast with gobs of butter? What do you love about it? What's your favorite toast? Please share with us. — Ali ?