Do you feel sad when all you see are expressionless faces? Thanks to COVID-19 masks are mandatory for many. But there's still a way to turn that frown upside down, even if you must cover up.
WHY WEARING A MASK BOTHERS ME (AND YOU?)
Certainly there are those who don't mind wearing a mask for a variety of reasons. That's not me. I am bothered on so many levels. That doesn't mean I'm against it. I just find it depressing.
Why does it bother me? Or you?
There's a lot going on here, and psychologists have already done some interesting COVID-19 mask-wearing studies.
Masks remind you that something is eerily wrong. They can trigger memories of traumatic experiences, violent crimes, or medical treatments that you endured.
FACING YOUR FEELINGS
One way to work through your discomfort is to take a moment for emotional reflection.
What feelings do you notice when you put on your mask before heading into the grocery store?
My emotional responses vary. Here they are, in a nutshell:
in March my reaction was fear — I was meticulous in taking every precaution — mask, gloves, putting the mail in the oven at 150 degrees for two hours to kill any viruses.
presently I'm feeling frustration that something I can't see is making people ill, and that the human attempt to mitigate this has ruined lives and crashed economies worldwide.
no longer afraid, I'm now just weary of it all.
loneliness, even while in the midst of a crowd.
sadness — the feeling that something very significant is missing — there are no smiles! No faces!
a wacky desire to break the social norm and run around the store mask-less,  giggling, giving every shopper a great big hug (of course I would never do this, but I can fantasize … ) ?
How is it for you? As always, I welcome your responses below, in the comments section.
TURING YOUR FROWN UPSIDE DOWN
So enough, already! For a moment, forget about what you can't change and focus on what you can.
If you have to wear a mask, make it count!
People can't see your real smile, so give them the next best thing — a cloth one!
Do you think this sounds silly? Childish even?
It's not child-ish (which means immature). It's child-like!  And can't we all use a little more of that humble, cheerful wonder in our lives?
PICKING YOUR FLAVOR OF LEMONADE
Turning lemons into lemonade is what we're doing, people! So, let the fun begin! The choices are almost endless. You can pick a flavor of mask that:
CAPTURES YOUR STYLE OF SMILE — whether emoji-esque or realistic, crazy or sweet.
This mask is my absolute fave! It reflects my personality. I love the simple cartoon style. It's fun and child-like.  I am very impressed with the creator. Her quality is excellent, the smile is in right place (which can't be said of every smiley mask), and her shipping time is very short. She is on it! I highly recommend BoutiquePalais on Etsy. I ordered two of these.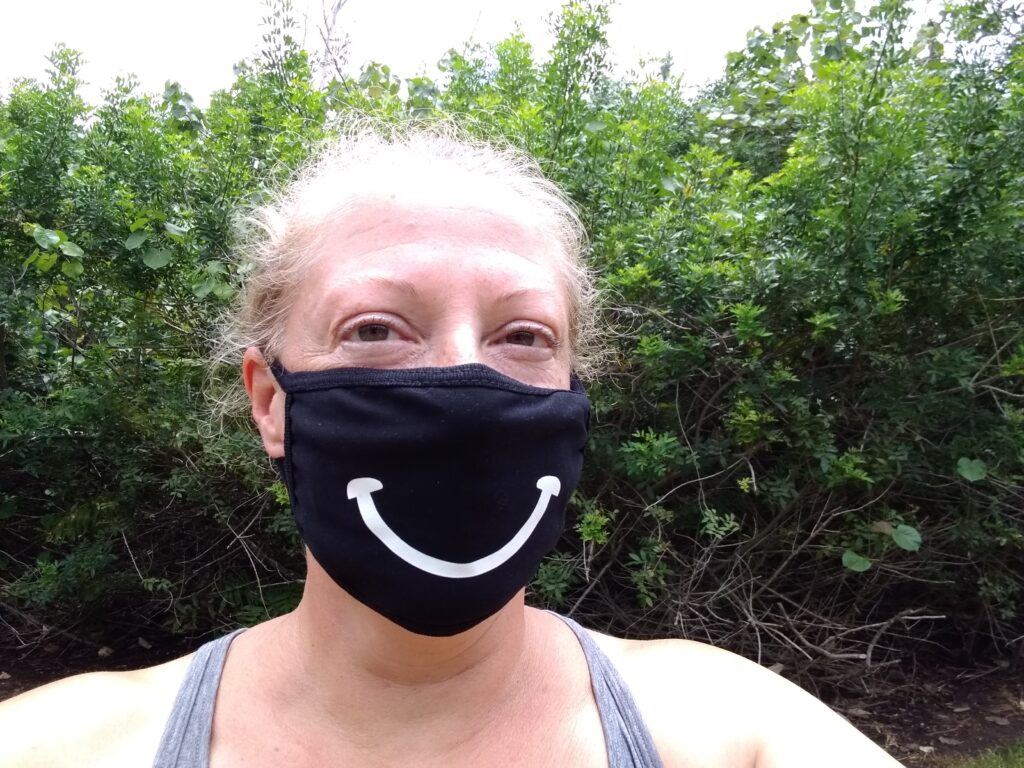 SHOWCASES ONE OF YOUR HOBBIES — This creates an opportunity for conversation with strangers, whether your obsession is cats or a sport team.
I love cats. So far several strangers have commented on my fun feline face covering (buy yours here):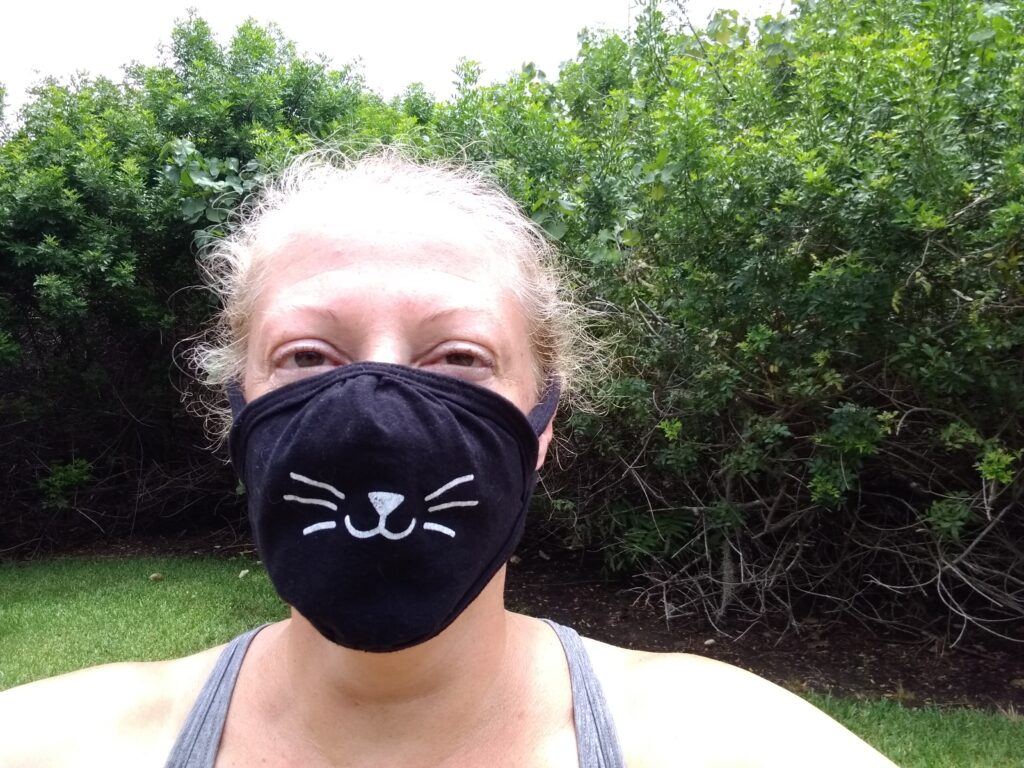 HINTS AT YOUR JOB OR CALLING IN LIFE — an important part of your identity.
I work at an ice cream shop. I know, it's a dream job. How do I make my customers smile? Check out this fun mask created by an indie artist at TeePublic: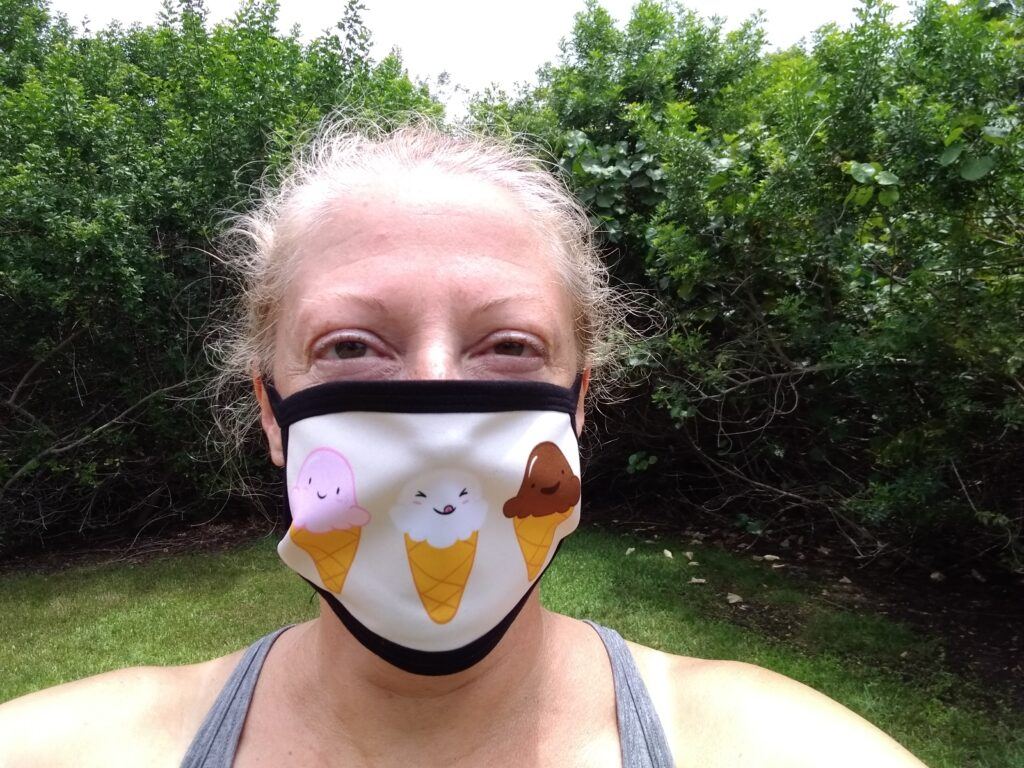 SMILING WITH YOUR EYES
Let's look on the bright side. At least people can see your eyes! In fact, since that's all they can see, be sure to grin extra big so you get smiley eyes.
Furthermore, this lack of full facial expression means you must depend entirely on the eyes and voice for emotional and social cues.
What a great opportunity to develop the habit of looking people in the eye when you converse. After all, the mouth can lie: it can smile when it's sad or laugh when it wants to cry. Eyes never lie.
Maybe it's time to start connecting with people on a deeper level.
So, slip on that super-cute mask in lieu of a smile and break the ice with some preliminary chuckles.
HOW HAVE YOU BEEN DEALING WITH THE COVID-19 FALLOUT?
Any tips or tricks that you've discovered? Little things that have helped you stay sane during this trying time?
I'd love to hear about it, as would others. Please share your thoughts below.