All you want is a perfume spray that doesn't cost a fortune, with a fragrance that doesn't give you a headache, right? Natural perfumes for women can be hard to find, but I am excited to say that I finally found one! The scent is mildly therapeutic — gentle and feminine. There's a hidden gem in this one, ladies. So, if you're seeking a natural substitute for synthetic perfumes (one that's bolstered by anti-stress benefits), read on!
NATURAL PERFUMES FOR WOMEN — TAKING CONTROL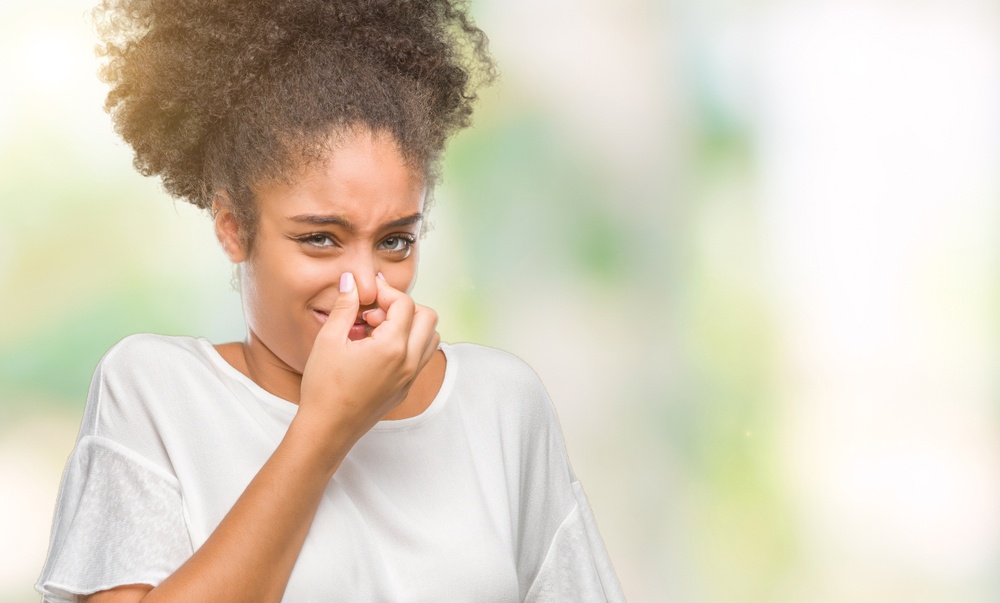 It's time to choose your own singular scent! No more meek acceptance of unsought smells. You know what I'm talking about — that indiscernible perfume cloud that swirls around you all day. It's a dissonant mingling of fragrances from shampoo, conditioner, hair products, face products, deodorant, body lotion, lip balm and body spray. Am I forgetting anything? Oh yeah — thanks to COVID-19 — hand sanitizer!
Seriously!! Even if you wanted to wear just one fragrance, it seems impossible. Each beauty product has its own scent, and you don't get to pick it.
Why does everything have to be excessive these days? Too many smells, too much noise, unending visual stimulation.
It's time to take control and welcome simplicity and mindfulness into your daily scent experience.
FRAGRANCE SIMPLICITY
Is it even possible to reduce the number of scents that cling to your body daily? Yes it is! This is my experience, and I hope it clears the air for you. ? Limit your fragrances. Do this by choosing:
A fragrance-free deodorant. For me, it's Dove's sensitive invisible solid. I really tried to like the natural crystal deodorants, but found they lacked consistency. Sometimes they worked, sometimes they didn't. The moisturizing benefits of Dove's antiperspirant won me over. There's also no scent, which leaves room for my personal fragrance to shine.
Natural, essential-oil-based hair products — My pick here is pretty much anything from Aveda. In fact, I wrote a whole article on their amazing Damage Remedy conditioners. Visit this post on naturally scented hair care products that work wonders.
A gentle fragrance-free body lotion. That's Aveeno for me. I just love how it has a subtle oatmeal scent.
Subtle or scent-free face products. It's pretty tough to find fragrance-free here, but lightly scented wares are readily available. My favorites are crafted by Origins.
A natural, aromatherapy body spray of your choice. Embrace the previous suggestions, and this will be the only aroma that follows you throughout the day. Consider it your highlight fragrance. It's your signature scent. You need look no further than …
AURA CACIA
Aura Cacia's "Cool Hottie" Essential Solutions Mist! I sampled many Aura Cacia pure essential oil sprays at the local health food store before settling on this one. The name makes me blush a little, and there's a funny story later.
The truth is, title played no role in my selection. This fragrance appealed to me. The label listed lavender, peppermint and the mysterious vitex as ingredients. I wasn't sure what vitex was, but when added to the mix, it took lavender and peppermint to a whole new level. And if that wasn't enough to close the deal, the bottle's caption read: find balance and embrace change. I've always had a hard time handling change. This reinforced my intuitive selection, and I bought it.
NATURAL PERFUMES FOR WOMEN — SCENTS WITH BENEFITS
So what are the benefits of Aura Cacia's Cool Hottie misting spray, besides it's dreamy fragrance? I'll let the ingredients do the talking:
Lavender is the most common essence used in aromatherapy

. Its leaves, new stems and flowers are used in the oil extraction process. The fragrance has a calming effect, promoting relaxation, deeper breathing and stress reduction.

Peppermint essential oil, when diffused, can boost energy, clear the respiratory tract, stimulate circulation, and alleviate feelings of nervous tension and stress.

Vitex

essential oil is extracted from the leaves and berries of the chaste tree. It has a crisp, clean scent, similar to sage — earthy, with a little zing to it. I was also surprised (and very amused) to learn of its benefits …
VITEX AND HORMONAL HEALTH
I'm a couple years from fifty, and the looming menopause is never far from my thoughts. There's a symptom here, a symptom there. Or is it? PMS and menopause share some similar territory.
Imagine my surprise at learning that vitex has hormone-balancing qualities! Apparently, it's been used in women's health for centuries. Vitex agnus-castus has been found to ease PMS and menopausal symptoms alike. In one study, according to Healthline, vitex oils were given to 23 women in menopause. These ladies reported improved menopause symptoms, including better mood and sounder sleep.
And I laughed. ?
What a hoot — how I was inexplicably drawn to Aura Cacia's Cool Hottie spray! It smells amazing, but I now wonder if the scent's attraction was heightened, thanks to my age and hormonal disposition.
Regardless, I love it. Aura Cacia has created a wide range of natural essential oil mists. I'm certain you'll find at least one worthy of becoming your signature scent. Amazon offers a healthy assortment.
SIMPLICITY — IN FRAGRANCE AND LIFE
I encourage you to begin replacing your hair and body products with natural alternatives. From there you can consolidate scents, or eliminate them entirely. You'll not only discover a simpler beauty regimen, but you'll create room for deeper enjoyment of the few items you choose. This mindful approach to product usage strips away the clutter, allowing you to focus on one meaningful fragrance. So, save your nose from artificial perfumes and scent overwhelm. Experience the sense of smell more deeply, through intentional fragrance selection.
…………………………………………………..
Is there a natural beauty product you'd like to recommend? I'd love to hear your experience, for or against. I welcome your comments and questions below. – Ali